Selling
Promotional Ideas for The Holiday Season
We operate on the theory that there's a tea or tea accessory for everyone. As a tea shop owner, you can help customers find their pitch-perfect tea-related gifts this holiday season and we have a few ideas to share to start your promotion motor running. So, get ready to pack the shelves, decorate the windows, and take advantage of these ideas for products, services, and even shop décor:
PROMOTIONAL IDEAS:
Know Thy Customer. 'Tis the season to stock up on your customers' faves. Buy them early, especially our Pumpkin Spice, Bonfire, Candy Cane, Christmas, or Peppermint teas. Don't know what they like? Keep records! The few seconds it takes to input data pays in big dividends when you can bring up info to remind customers of their past purchases. They'll appreciate you took note and made it easier for them to buy holiday staples!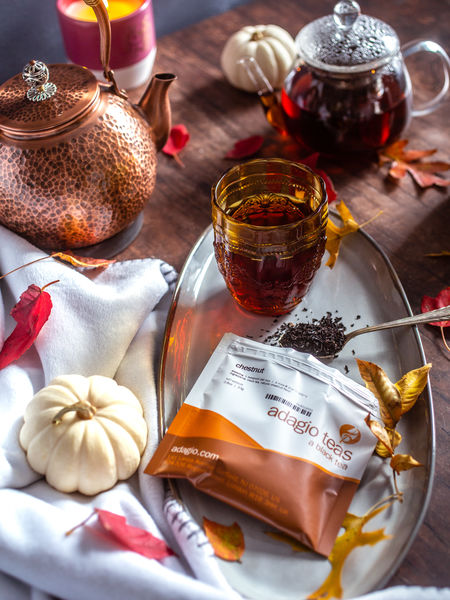 Check your current POS equipment for customer tracking if you don't already use this feature or ask your computer consultant for ideas how to incorporate this tracking. HUGE help for repeat sales.
Thanksgiving. Think of a theme for signage and display that encourages gifting outside the usual family and friends, such as "Who Helped YOU This Year? Say thank-you with TEA." Create both dedicated, pre-packaged gift baskets and individual items for small tokens of appreciation to make the decision process easier (and pre-wrapped!)
The essential worker is the new staple on everyone's thank-you list plus all those who deliver the mail, online purchases, prescriptions; those who've helped with daily or one-time tasks like caregivers for elderly or children, teachers, maintenance services, grocery workers, firefighters, health personnel or anyone who makes life easier.
Business-to-Business relationships require continual sustenance, especially during this time of fewer in-person meetings. The seasonal gift basket is never out of style, yet takes on additional meaning this year as a way to say thank you for continued business. Remind your business customers of your holiday gift basket service, your willingness to custom design them, or create a series of pre-packaged generic baskets for those who leave gifting to the last minutes.
Christmas, Chanukah, and Kawanza. Be inclusive in your holiday buying to provide gift ideas for any budget, and any holiday, from a cute or elegant teapot or some great food and sweetener products, like our new line of tea honeys. Stock a variety of delicious teas and accessories for everyone's taste, and budget from the Masters Collection to flavored teas and herbals and the new, perfectly priced, ideal-for-anyone IngenuiTEA2.
Decorate just once. Sure, it's fun to design for autumn and Halloween then switch to Chanukah and Christmas, but decorating only once frees you. With the extra time, you and your staff can get the jump on other tasks on your holiday to-do checklist without added pressure. Consider decorating with gold, copper or silver. They're festive and exciting, work beautifully with strings of white lights or hand-made or purchased white paper decorations like flowers, snowflakes, or cut-out banners. Invite a local school to make white paper decorations. Salute them with a sign in your window and/or thank them with school supplies or a gift of tea for the teacher.
P.S. Metallic and white make a fantastic theme for tree decoration or window displays.
CALL OUR TEAS BY YOUR NAME.
Our white teas are perfect for rebranding with holiday "white themes." White Chai could easily be called Snow White Chai; our White Peony could be Santa's Song, and our Jasmine Silver Needle, Fuzzy Navel, and White Tangerine are all delicious gifts with or without re-naming.
P.S. Our popular white label program . Ask us how. Orders@Adagio.com
Deliver the Goods. Make holiday shopping easy, and safe, for clerks and customers. Promote your gift baskets and all your teas and accessories as deliverable in person (if possible) or via the USPS, UPS/DHL or other delivery service. Also offer curbside pickup for customers who need it.
P.S. The Early Bird Gets the Gift ON TIME. Remind your customers to order early to insure prompt delivery as the whole country veers toward online shopping. Send emails, make notes in your newsletter, and include a paper flyer with every purchase plus in-store or window signage.
TEA GIFT IDEAS YOUR CUSTOMERS WILL LOVE:
ELECTRIC KETTLES ARE NOW MAINSTREAM and Adagio still leads the pack. We have improved the UtiliTEA water kettle which gives tea lovers control over the temperature of the water from white to green, from oolong to black/pu erh. Easy-peasy operation. Well priced to SELL.
P.S. Electric tea kettles save energy, money, and time. When customers replace their stovetop kettle with an electric kettle, the automatic shut off mechanism means no more ignored whistles or burnt kettles and no more bitterness in the tea from too-hot water.
ADVENT CALENDARS with full-leaf tea sachets or single-serve loose-leaf packets are a delightful twist on this family Christmas tradition.
CLEARLY COOL GIFTS for the tea lover should definitely include heat-resistant borosilicate glass cups that add a touch of magic, a window into the "agony of the leaves" and viewing the glorious colors of tea. Your customers may just have to buy some for gifts AND some for themselves. Don't forget our themed porcelain Double-Walled Mugs
STOCKING STUFFERS & CHANUKAH TREATS we love include Matcha Sticks, candlestea-infused , cookiestea , bamboo whisks, tea infusers or any of the many teabags or tins we offer.
P.S. These tea treats are great to promote as party favors or thank you tokens for essential workers.
SAMPLERS AND GIFT SETS make great gifts and also help you promote particular categories of teas. We have many to choose from such as Christmas Gift Sampler and many other themed tea samplers.
P. S. Enhance the Greeting Card. For those on a budget who still want to acknowledge many people, suggest they enclose a teabag in greeting cards they mail for Chanukah, Christmas, or Kawanza. Recipients will love the unexpected and appreciate the extra effort. Best of all, it's a way to make a holiday card a Mini Present in an economical way.
NEED MORE INSPIRATION? Check out http://www.adagioXL.com or contact Cynthia Fazekas to pick her brain with an in-depth review for your holiday orders: adagio.acuityscheduling.com.
KNOW WHAT YOU WANT? Email Orders@Adagio.com