Selling
Tea Gifts Ideas for Back-to-School and Beyond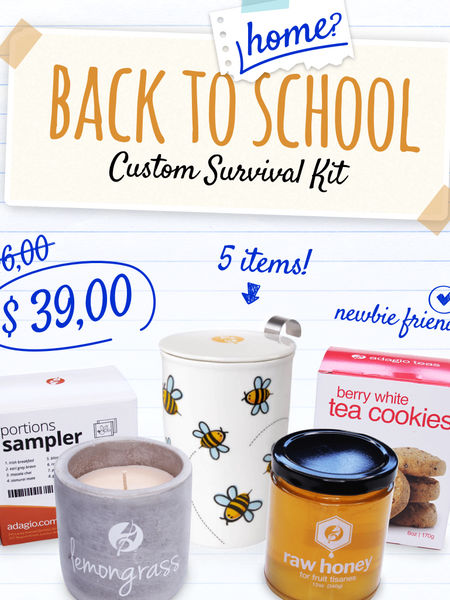 Challenges are many during this year, yet you have a balm to solve many of the concerns: TEA!
College students, so primed for an away-from-home experience and meeting new people on their new campus, might not physically be able to attend their chosen school and, instead, take classes online. Professional teachers at all levels may no longer have the familiarity of a classroom requiring an adjustment to their class syllabus to work with online platforms. And, many parents of younger children may have a whole other catalog of to-do lists in their new roles as parent-teachers.
Students, parents, teachers, they all need a break, and a gift from your shop will definitely say, "You can do this!"
Here are a few ideas to share with your customers:
TEA BOX FOR THE STUDENT
You can create a fun box for customers to give college or high school students who need a break from the online experience. No matter the size of their homes or dedicated study spaces, everyone has room for a "Tea Box" and when not in use, the box can be stored in a closet, under the bed, or on a shelf.
It can be sturdy plastic or paper in primary colors or hues that match your logo. Another choice is a square or rectangular basket in earthy natural tones. Pack them gently with a box of tea or a themed Sampler Box, an ingenuiTEA or a colorful cup and infuser. Offer a larger-sized box (and higher priced) package to include our UtiliTEA variable temp electric kettle, or velociTEA electric tea maker, or other teas and tea-related items customers would like to give their student.
Make sure to include a flyer that reminds these students that a tea break can be shared online, with each person discussing homework tips, what shows they're bingeing, or what tea they're drinking or how they brew it.
Remember to add information on the flyer about how to re-order more tea or send a gift of tea to their friends.
FRESH IDEAS FOR THANKING THE TEACHER
What better way for your customers to show that gratitude than a "Thank You, Teacher" promotion. Pull out all the stops for gift ideas that are genuinely special. Some ideas we love are Blooming Teas and our heat-resistant borosilicate glass cups and teapots; an elegantly classic Yixing teapot and a packet of loose-leaf tea; a collection of our Masters Teas and a gaiwan, or the option to customize a gift basket with teas and accessories to fit any price range.
By pricing from modest to high, you acknowledge that everyone with a strict budget or a substantial bank account can enjoy a cup of tea from your shop and know that they're buying quality.
Gift ideas from your shop can include a simple cup and small package of teabags for under $20, a collection of connoisseur-level teas with or without exceptional teapots, and you can price them according to gift box packaging and the cost of the items in them.
These gifts provide a variety of ways your customers can celebrate and thank teachers for providing all that extra support they offer to help children continue their education. And, friends and family members can acknowledge the double and triple roles of parents who are teaching at home, or parents who are students themselves.
EVERYONE DESERVES A TEA BREAK
Your customer doesn't need to be home-schooling kids, working full-time, or tending elderly parents to deserve a break with tea because EVERYONE deserves a tea break. You just need to remind them to care for themselves with the best tea they can afford. Doing so makes a treasured break genuinely nourishing and energizing. And, no standing in line required.
Consider creating a "You Deserve a Tea Break" campaign and use it to send to your email list, post on your web site, and through your social media. List one to three teas you're excited about this season and explain why customers should try them. This is a terrific way to share your information, educate customers about new teas, and suggest different accoutrements for brewing these teas. You can adapt this as a regular feature on your web site and with in-store signage, and promotional flyers you include in every in-store sale or shipped purchase.
Also, remind your customers if you deliver locally, offer curbside pickup, or ship. They're sure to love that convenience.
HELP THE COMMUNITY
Sometimes, alas, a tea shop has excess tea inventory. Consider donating these teas to food banks, homeless shelters, venues for the elderly, nursing staff at hospitals or convalescent facilities. Or, you can donate them to any organization that provides food or shelter in your town. Unsure which groups to give your teas? Ask your customers, and stand back!
Remember to write about the tremendous service these groups provide to their clients and why you support them. Put a mention on your social media, web site, or newsletter to share with your customers.
If inventory donations isn't your thing, consider donating a portion of profits from any particular tea accessory or tea to the charity of your choice. You promote your store, consumer interest is directed to this tea or accessory, and a local agency earns a little cash. Individuals get a great cup of tea, and you get a tax deduction. Win-win!
GIFT BASKETS FOR BUSINESS
Many of your customers may be wooing or working with clients they'd love to acknowledge in a unique way. Designing gift baskets for business to business gift-giving is a profitable and exciting part of any business.
Don't be shy about high-end collections and their cost. Business people value the innovative and the exclusive, and are willing to pay for it, so aim to find exceptional boxes or baskets, fill them with only your finest teas, like the Masters Collection and beautiful paraphernalia. Think theme, like Asian or techie or go for colors and choose the accoutrements accordingly.
Your customers will be proud to give a spectacular tea basket to honor their business relationship with their clients.
P.S. The holidays are coming; remember to include business to business clients as a market for your seasonal gift baskets.