Tea
Selecting a Tea Supplier
Tea is a relatively simple product. So it may come as a surprise to discover that the industry is among the murkiest. Perhaps that's an overstatement. Still, it is safe to say the tea industry is far from transparent. And the small wholesale market may certainly be its most opaque segment.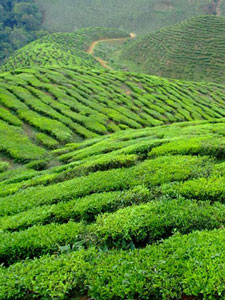 Type "wholesale tea" on any of the search engines, and you'll get a litany of choices, all professing to offer the finest of products. Yet many are simple resellers. Or resellers for resellers. How does one wade through all the options to find a source of truly unique, reasonably-priced, fresh teas?
It's actually very simple. Simply ask your prospective supplier where it sources its teas. If the company is not forthcoming with this information, chances are, they are not adding much value. And do not wish to reveal their source for fear that you may buy from them directly. And if that's the case, what value does the wholesaler add to the transaction? The answer is worse than none. For what's being added are expense, and age of tea, neither of which are desirable. And neither of which is going to endear you to your own customers.
A wholesaler willing to reveal its sources is a good sign of a value-adding partner. It's a sign that this company procures teas from entities that are too big for you to trade with directly. For the most part, the latter are producers located in Asia. Either the size of the order they require is too big for you to undertake directly. Or the expense of shipping a small-sized order would be prohibitively large. In either case, the wholesaler adds value by presenting you with an opportunity to purchase teas you would find difficult or too expensive to procure directly.
Another important consideration is throughput. Look for a company with a sizable turnover. It not an absolute guarantee, but it's a good chance the teas you'll be buying are fresh. And please steer clear of the charlatans who profess to offer "vintage" tea. The year 1995 may have been great for wine, but any huckster offering you tea from that year is selling you stale goods. Good tea should be only one thing: as fresh as possible.
Another useful consideration is retail experience. If the company you are considering as a source engages in consumer sales, then you may easily tap into the knowledge such interactions produce. What teas are popular? Which ones are up-and-coming? Which teas belong on my menu? A company with retail experience may be a treasure trove of information that a pure wholesaler may not possess.
And that's what your partner in tea should be '- a useful source of information to help you make smart choices in selecting the teas to offer, and educating your staff on how to best present these to your customers. As Gordon Gekko advised, "information is the most valuable commodity." Make sure that in addition to good teas, your supplier keeps you in the know of what's hot, what's not, and how to best position your product range.
And don't be afraid to ask for references. A company with retail operations you may easily research by seeing how well it scores on BizRate, Epinions, or other online surveys. However, a purely wholesale operation may not be listed there. So you'll need to do a bit of proactive digging. Request a list of references, and do a bit of calling. It will surely be worth your time.
In his much-publicized testimony before Congress, JP Morgan famously espoused on the one criterion for extending credit to his clients. It wasn't the amount of assets. Or the size of income. It was character. To a man lacking in character, he explained, he would not lend a dollar "on all the bonds in Christendom."
Something similar should figure in your selection of a tea supplier. Look for a company that is transparent, forthcoming, and informative. Don't be afraid to call them up, and ask "how will you add value to my business?" If you are satisfied with the answer, you've found your tea supplier. If not, you have to keep on looking.