Tea
Valentine's Teas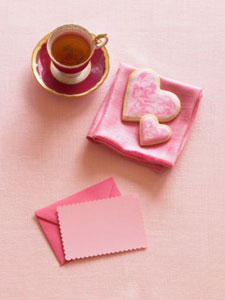 Many of you have already planned your special events for Valentine's Day and are hoping for booked tearooms. In making your event a success, give special consideration to your tea offerings. It's always good to offer both flavored and non-flavored teas especially when a meal is part of the special event menu. We suggest either a nice second flush Darjeeling or a more intriguing choice such as a fine Ti Kuan Yin oolong.
The dessert-like teas certainly get more attention in February when the focus is on chocolates and other confections. These are fun and can really enhance your customers' experience at the event.
Our newest option is Tiger Eye certainly a gem for the cup and hopefully as valuable to your tea sales! It is a palate-pleasing treat with caramel and chocolate flavors that bring thoughts of brownies and maybe even chocolate lava cake to mind. Truly a guilt-free pleasure!
Another newer tea is our very popular Honeybush Hazelnut. The mellow sweetness of honeybush blended with hazelnut flavor yield a toasty nut character that is smooth and sublime. Naturally caffeine-free!
We also have our Chocolate Chip black tea, with actual dark chocolate chips that melt in your cup for an extra bit of sweet, chocolaty goodness. Our ever-popular Valentine's tea is a blend of chocolate and strawberry in a black tea base. While always a favorite, it is really a go-to tea this time of year!
A little spice is nice! Keep those fires of the heart burning! Kick it up a little with teas like Masala Chai, Cinnamon, Oriental Spice, or Ginger Peach.
Other Valentine's Day tea standouts are:
Finally, remember that you can cater your tea choice to complement your dessert menus. Mango, coconut, or berries - you name it. The only limit is your imagination!