Marketing
TeaMap.com: A User's Guide
Would you be excited if someone told you the largest and most comprehensive listing site for tearooms was free and at your fingertips? TeaMap is a portal which brings guests to your door. The sites acts as a gateway to connect tea lovers with their local purveyors and to encourage them to try tearooms when they are traveling away from home. Enthusiasts can search by state or specifically by zip code. Best of all TeaMap is a no fee service provided to all tea specific businesses courtesy of Adagio Teas.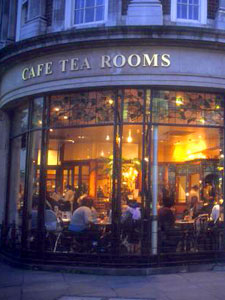 Start channeling tea enthusiasts to your door by listing your tearoom. Begin by filling out a short registration form. Once your tearoom has been registered you will find it under the list by state with a tag that announces it is new. Next you will need to contact Adagio Teas for your login password.
Once you have procured your password and logged into your page you will notice an array of options. Each individual tea room page enables TeaMap proprietors to list a description of what guests should anticipate when visiting, hours of operation, interior and exterior photos, maps that link to directions, a list of upcoming events and customer reviews. Writing an description of your tearoom is one of the most important aspects to making sure you draw a customer that is a good fit for you. Guests will greatly appreciate knowing that you sell only boutique teas over $300 per pound and serve no food, before they make time to visit you to celebrate their five year old's birthday to eat scones and clotted cream. By shaping expectations you can set the tone for a positive experience before they step through your door which is more likely to lead to positive customer reviews.
Because we offer the option for customers to leave reviews, we have a ranking system of Top 100 and Top 500 tearooms across the country. In your admin page, there is a link showing your position in the ranking. This ranking is determined primarily by the number and quality of reviews left by customers. Some of the most successful tearooms on the site encourage guests to leave reviews after they visit. Many of our users love the interactive nature of the site.
If you would like assistance, please don't hesitate to contact me at angela@adagio.com. I am eager to encourage more people to step back from their busy lives and embrace the world of tea wherever they may be.