Tea
World Tea Expo: Good Showing in Tea Competition
Just back from the World Tea Expo and Tea Competition in Las Vegas. Our Jasmine Tea Bloom was the winning finalist in the hand tied tea category. All the teas in this category are composed of green and white tea tips that have been tied by hand with choice flowers in the inside. Adagio Tea's Jasmine Bloom is made with hand picked white tea buds and a trio of perfect jasmine blossoms. It is a delight to the eyes and the tongue. The tea when steeped is delicate and sweet with an ethereal jasmine fragrance.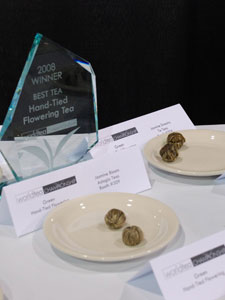 Our other semifinalists were Oolong #18, Raspberry Patch herbal, Jasmine #12, and our signature Earl Grey Bravo.
We are thrilled to have one finalist and four semi-finalists in the Hot Tea Competition. If you would like more information on these competition winning teas, please contact orders@adagio.com.