Tea
Masala Chai
Masala Chai has captured my imagination since my college days. My first year roommate from Pakistan introduced me to many flavors of her home. One of the most memorable and delicious was the intensely spicy chai we would drink together. Composed of spicy herbs steeped in strong milky tea filled with sugar. It wasn't a connoisseur's tea like the Dragonwell green tea and High Mountain Oolong I sipped throughout the day. Masala Chai was my comfort tea that got me through the hours of 9 PM to 1 AM when I was pulling the third all nighter of the week. Chai revived and inspired me as I contemplated the individual components of the tea and the travels I hoped to go on when I finally graduated.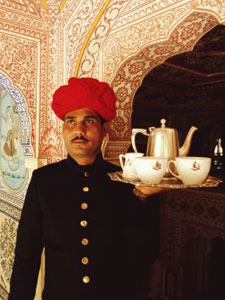 Soy, almond, or rice milk are easily substituted in place of milk for those customers wishing to avoid dairy for dietary reasons. In summer months, chai is fantastic served over ice.

To bring out the innate characteristics of the spices, be prepared to steep the tea 5-7 minutes. For service, you may consider brewing a concentrate to have on hand for hot and iced chai.

This month at Adagio Teas, we will be adding a Masala Chai and a Vanilla Rooibos Chai that I have been working on for a while. Please contact us if you are interested in being one of the first to sample our newest tea additions. These chais are extremely delicious when sweetened with our minimally processed amber sugar crystals.

Chai Tea Concentrate

1 cup Adagio Teas Masala Chai or Vanilla Rooibos Chai tea leaves

1/2 cup Amber Sugar Crystals

1 qt filtered water

Steep for tea and sugar in boiling water (212F) for 7 minutes. Put aside in a well-sealed container in the refrigerator. Provides 8 to 10 servings.

Chai � hot preparation � 12 oz cup

2 tsp Adagio Teas Masala Chai or Rooibos Vanilla Chai Tea leaves.

8 oz filtered water

2 tsp Amber Sugar Crystals

4 oz warmed milk (soy milk may be substituted

Steep the 2 tsp in 8 oz of filtered water at boiling temperature (212 F) for seven minutes. This will be produce a sweet, intensely spicy, and very creamy cup of chai.

Chai � iced preparation 16 oz. glass

4 oz. chai tea concentrate

4 oz. milk (soy milk may be substituted)

Ice to fill glass.

I recommend having a cocktail shaker on hand for this recipe. Shake the 4 oz. of chai tea concentrate and 4 oz. of milk together for about 15 seconds to blend them well then pour over ice and serve.