Serving
'To Go' or Not: A Worthy Question
Tea "to go" sounds like an oxymoron. And in a way, it is. After all, watching the leaves infuse is a perfect excuse to slow down, kick the feet up, and put the world on hold. An oasis of sanity of sorts in our increasingly hurried world. One day, perhaps, all will come to realize the many benefits to be gained by slowing down at least for the few minutes it takes to brew up a cup.
But that day is not now. And offering tea "to go" is not something you should summarily dismiss based on some lofty ideal. Fore it makes a lot of sense. Even traditional purveyors of tea, like Toraya of Japan, embrace this concept in their New York outpost. A Gyokuro in paper cup is out of the question. But a Sencha to go... coming right up.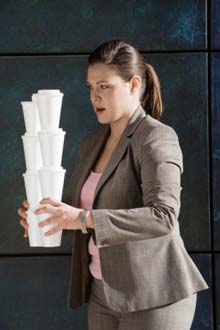 Similar trends are on display in the coffee industry. According to Jay McDonald, director of operations at the Los Angeles-based Coffee Bean & Tea Leaf, anywhere from 60 to 90 percent of orders, depending on store location, are now to go. Similar ratios may be observed at a Starbucks location near you.
Comfy chairs and trendy tunes give the place its cool ambiance. But it's the take-out traffic that usually keeps the lights on. It's easy to understand why. There are only so many bodies that may comfortably occupy those overstuffed chairs. And each may down only so many cups. Without the enormous revenue generated by take-out clients, half its stores would surely prove unprofitable, and need to close.
While it's unrealistic to envision the tea industry soon reaching a similar scale, the economic impact of all those running cups is being felt now. Whether you realize it or not, you are competing with the coffee chains for all the scarce resources: space, talent and funds. And developing a healthy tea "to go" business is a good way to increase your chances of success.
What are some of the ways you may offer gourmet teas for your customers to grab on the run? Many a concept has been tried, all with varying degrees of success.
Perhaps the simplest is to have a subset of the tea you offer prepared in advance, and dispensed from a hotpot. This is the option practiced by Tealuxe, a chain of tea bars that grew from a ten-seat shop in Harvard Square. Eight teas are selected each day from among the hundreds on offer, and promoted as the "daily brews." According to Joe Driscoll, the company's tea buyer, about haft the visitors to Tealuxe select a tea from among this list. They tend to be people new to gourmet teas, who are likely to be overwhelmed in deciding among the hundreds of teas that Tealuxe offers. But find choosing one from among eight a much easier task.
The "daily brews" option also provides an easy opportunity to dispense samples. Potential customers may easily sample a few varieties, and will surely select one that they enjoy best.
The one problem with this approach that Tealuxe found was the relatively short shelf-life of the green and white varieties. These tended to lose flavor quickly, and are now excluded from the "daily brew" rotation. Others have managed to get around this issue by ensuring a quicker throughput. The Perennial Tearoom in Seattle's Pike Place Market offers just four ready-made teas. Only one of which is green. Ensuring that tea does not linger in the pot for too long.
For those visitors who choose teas outside the "daily brews," Tealuxe offers teas "to go" in paper cups with disposable tea sacks holding the loose leaves. The customers are instructed to remove these five minutes later in the case of black teas, and three minutes for green teas. These tend to be people better versed in the world of gourmet tea, with the confidence to venture outside the limits of a basics set.
While Tealuxe asks its customers to throw away the brewed leaves (a potentially messy process), a more ingenious method had been developed by Mightly Leaf, a wholesaler located in San Francisco. Mighty Leaf is an outgrowth of the popular Tea & Company, a trendy teahouse that waged head-to-head battle with Starbucks and Peet's Coffee, its neighbors on Fillmore Street in San Francisco. The product, called Tea Top, consists of a tea sac that's attached to a string and a plastic cap with room to hold it. In place of throwing the sac out, a customer simply pulls on the string. This lifts the leaves out of the water, and halts the brewing process. With the advantage of convenience comes a small disadvantage: your list of teas "to go" must conform to the varieties being offered by Mighty Leaf.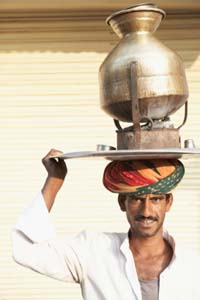 A yet more radical approach is being pursued by A' Cuppa Tea, originally in San Francisco, and now located in Berkeley. A modified cappuccino machine is used to brew any tea a customer may desire in about 45 seconds. Now one may argue about the desirability of having your finer teas subjected to so harsh a treatment. But for the basic black varieties, the taste comes close to that achieved by more traditional methods. And is surely better than anything produced with a commercial teabag.
A modified espresso machine is also at work at Tea Train, a casual tea spot in Longmont, Colorado. Only one tea is prepared this way, a mix of black tea and yerba mate. But it's a very popular concoction, according to owner Paul Cattin, contributing to an impressive 70% "to go" traffic.
Surprisingly, one method that has yet to be commercially tried, had been practiced in Russia for centuries. Most are familiar with a Russian Samovar. However, few realize that its content is simply hot water. Tea leaves are contained in a different vessel. And are infused as a concentrate, at many times the standard leaves to water ratio.
A traditional tea service in Russia would involve diluting this tea concentrate, usually kept at room temperature, with the piping hot water kept inside the Samovar. Ensuring a steaming cup of tea at a moment's notice. Or a cool cup; this method works equally well for iced tea.
Which of these methods is right for you? The answer depends on how your business is positioned. If like Toraya you aim to impart as much authenticity as possible, then a tea "to go" will simply mean pouring a pot of traditionally prepared tea in to a paper cup. Your customers will surely not mind cooling their heels for the three minutes it takes a green tea to infuse.
If however you are located near a university or a busy downtown, then your customers may not have much time to spare. And you'll have to devise a strategy that caters to their whims. However, be careful to not sacrifice too much. Otherwise, you'll destroy the rationale for their choosing your tea in the first place, in lieu of the many alternatives.
In summary, the tea "to go" sales may be an important component of your beverages revenue. Done well, and made to compliment the other aspects of your business plan, it will surely be an important factor in ensuring the success of your tea venture.