Serving
Reopening Insights for Tea Service and Take-Away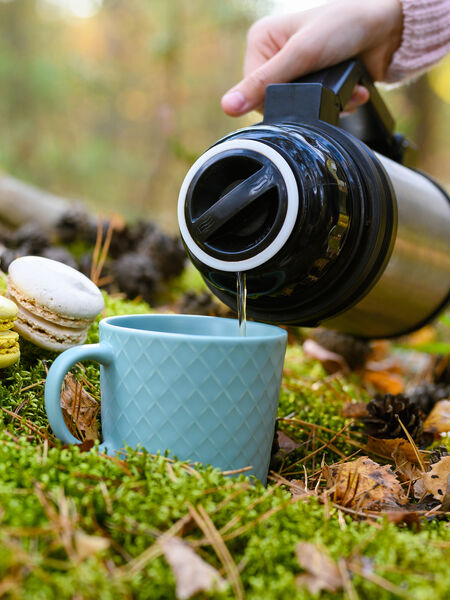 As state and local governments allow more outdoor dining and some limited indoor experiences, it's still important to be a safe environment for your customers while, at the same time, offering innovative products and services to sustain long-time customers, and invite new ones to your shop or restaurant.
OUTDOOR DINING
Weather permitting, nothing is more enjoyable than dining outdoors, even if it is only a cup of tea and a scone. Still, it's not summer, so how do you keep tea hot? One way is your granny's standby, a cozy to cover the teapot. And, using sturdier pots, like the classic Brown Betty or the Yixing red clay pot, are also great ways to keep tea hot. If those choices are limited, serve tea in a thermos/insulated container (hopefully, one you sell!) The thermos can be refilled, as necessary, and it's easy to use. Best of all, it keeps the precious brew hot. Place a discreet tent card that mentions that the products used at the tea service are available for sale!
Standing heaters are expensive, but in some areas they can be rented, a wonderful option for areas where spring is still hiding. And, as temperatures do warm up, consider new recipes for iced teas, tea granitas and sorbets to add yummy to the menu.
USING NEW SKILLS TO BUILD YOUR TEAM
Make sure all your waiters, clerks, and other personnel who interact with customers know about new products and services so they can answer questions easily. For the shyest among your employees, consider role-playing so they get comfortable sharing the knowledge they have.
To go a step further in enhancing communications between staff and customers, consider hiring an improv facilitator. These are usually actors or directors with finely-honed improvisational skills in theatre, business, and personnel management who can help your employees hone their own ability to interact with customers, vendors, and each other. Commercial improv games are available everywhere online and easy to apply for team building and sales enhancement. You can even find improv games for sales and team building online on YouTube.com Using these tools will result in confidence-building, more informed employees, and for you, better and bigger sales. And, it's a lot of fun!
INNOVATIVE TAKE-AWAY SOLUTIONS
The criteria for packaging has never been broader or the choices more numerous: sustainable, recycled elements, clever designs, colors, sizes, the list is amazing. This is a great time to re-connect with your suppliers to shake up items for take-away packages, bags to carry them, and even utensils. Personalize any packaging with stick-on logos and make sure the logo carries your ordering info like telephone number, delivery vendors (Grubhub, DoorDash, Postmates) and your website for menu possibilities. (If you do your own delivery, and have a dedicated car or van to do it, make sure you have signage about your shop on the car!)
Making it EASY for reordering is as important as marketing for new customers and providing great service. If the logo decal is not your thing, design postcards, flyers, or other paper resources to place in all delivery and take-away packaging to make re-ordering EASY. Remember the primary retail rule, the best customer is the repeat customer, so make it (you guessed it) EASY.
WHAT'S NEW?
What changes have you made during this last year? New hours and days of operation? New products? New services? Changes in personnel? No matter what it is, from a clever new infuser to 24/7 website ordering, share the news everywhere: on indoor signage, via website content, in email or newsletter communications, and absolutely, in person to anyone who comes by.
LIMITED INDOOR SERVICE
Until your community has an open policy, it's still best to post a limit on the number of customers allowed indoors whether for shopping or dining. One wonderful advantage is that you can truly focus on the needs of these customers, can chat long enough to determine their personal likes, and get to know their favorite or dream products. Keep notes by hand or via the computer software for this. It's totally worth any investment and customers love the personal attention that you "remembered" they liked a particular mug, tea, or accessory item. Also, by talking with customers, you'll learn about products they'd love to buy that you don't yet carry.
If you're able to have limited tea service, conduct it as you usually would, but follow distancing guidelines for spacing tables and chairs. Have fun with it. Decorate tables, space permitting, with spring posies and change up the plates and napkins to herald the return of spring. Set out cards to remind diners of your newest products, your delivery/take-out services, or revised days and hours of operation.
SAY THANK YOU
It's amazing how your own innovation, pivoting, rearranging, and all the other tools of creating ways to stay in business have brought you to this day. Customer support is always hard won, and the simplest (and cheapest) way to win it is to say Thank You!
Whether it's in-person at the point of sale, with a notice in a delivery bag, or on a tent card at a tea-time table setting, say thank you. That never goes out of style.