Tea
Tea For Cider, Kombucha, & Craft Beer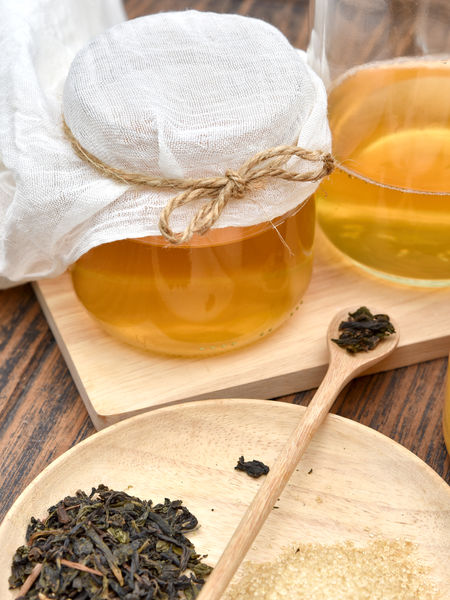 Are you a commercial brewer seeking loose leaf bulk teas, herbs, and spices for your brews? Small batch craft beverages like cider, mead, beer, and kombucha continue to increase in popularity. These fermented beverages tend to be filled with flavor, and often reflect their locality's unique character. Creative brewers have been expanding their range of flavors with the addition of tea, herbs, and spices - and you can, too!
Of course, in order to get the best brews, one needs to start with the best ingredients. Shrewd brewers find the best products at the best prices, such as those we offer at Adagio XL, which in turn gives us a bit of insight into what works for these artful beverages.
Popular base teas – those without added ingredients:
Ceylon Sonata – This full leaf black teas from Sri Lanka is full-bodied, has red fruit notes, a soft hint of citrus, caramel, and a gentle maltiness. Not overly brisk, it brews up nicely as a smooth base.
Gunpowder – China green tea with smoky notes, and a subtle fruitiness. Nice as a green tea base with a subtle smoky note.
Green Rooibos – A green version of the popular red rooibos but without the medicinal character. Light bodied, fruity notes, and a super smooth finish, make this a great base for summery brews. Caffeine-free.
Honeybush – Similar to its sister plant rooibos, it has a full bodied character, but has no 'medicinal' notes. It gets its name from an inherent honey sweetness with a silky smooth finish. Also caffeine-free.
South African Rooibos – Popular for its full body, pine-citric notes, and richness, red rooibos is vibrant, caffeine-free, and smooth.
China Steamed Green – When you want non-smoky, fresh, green tea notes, this tea is just right. A favorite of our blender for all of Adagio's flavored green teas. Mild, unassuming, and plays nicely with other ingredients.
Sencha Overture – If you seek a more complex green tea taste with grassy notes, this Japan green tea is quite popular. It's also a bit more expensive, so you may wish to reserve it for your super special brews.
Lapsang Souchong - This traditional Chinese tea is smoked over a wood fire that imparts distinctive sweet mesquite-like notes and is super smooth. In the cup, it can be a love it or hate it tea, but for a brewmaster, it can add a depth of flavor unlike anything else.
Hibiscus - Our hibiscus inclusion is straight up cut hibiscus flowers from Egypt. It produces a bright pinkish red infusion with deep velvety, sweet and tangy character.
Peppermint – A potent and popular choice, our peppermint is grown in Washington State in the US.
Ginger - Sourced from Vietnam, our ginger is bright and firey. The longer the steep, the spicier it gets. Adds the perfect spark of spice.
In addition to these great ingredients, we offer many popular blended and flavored teas to enhance any brew. Consider our Green Rooibos Bonita, Peach Oolong, Blood Orange, or Turmeric Bliss for your next batch. With your creativity and our fine teas, you can really brew some magic! Contact us for info and perhaps samples: orders@adagio.com