Marketing
Marketing 101 For Spring Green Teas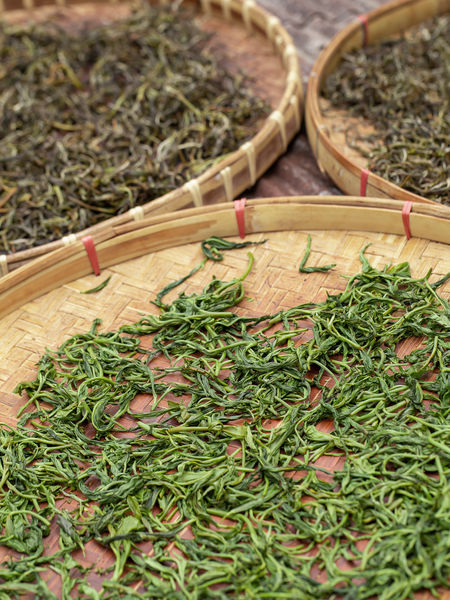 What do you think of when you hear the word spring? We conjure up green, fresh, floral, and new beginnings, which pretty much describes the spring harvest of green teas from around the world to savor and SELL!

How can you share your excitement of the new season of greens? We have just the marketing ideas you need whether you are managing a tea shop, tea room, restaurant or if you are a chef eager to experiment with new recipes ingredients.

Spread the News of Spring Tea Arrivals

• Begin your promotion efforts soon as you order your spring teas.
• Invite customers to pre-order to insure they get their favorites.
• Use every medium to inform customers and potential customers, such as social media, signage in your windows and store, and your website's homepage or special landing page
• Give your sales staff a list of what you ordered and, as soon as the teas arrive, provide a tasting for the staff. Have them note the taste and appearance in their own words so they can easily share their enthusiasm with customers.
• Create a flyer about the new green teas and include that flyer in all your in-store shopping bags. Remember, the best customer for tomorrow is the customer you serve today.



To sell teas, give a taste.

Whether you host an official tea tasting of this season's greens or offer a sample each day of the greens you are offering, this is the most direct, most effective, and most valued way to market green teas.

For a green tea tasting, select three or four from one country, such as Japan or China, to show how greens vary in each terroir, or select one each from several countries to demonstrate the differences and similarities among countries of origin.

The sheer variety of colors of green, from the chartreuse of fine powdered Matchas to the deep hunter greens of Sencha leaves, can be as breathtaking as the range of processing styles: pellets, twisted, flat, elegantly full-leaf, and powdered to name but a few. Displaying the dry leaves gives your customers a fantastic glimpse at this incredibly diverse category.

You could include Japanese Genmaicha, a perfect introductory green with its toasty-sweet, and popped rice; sweet Green Pekoe so reminiscent of the classic Mao Feng, that would appeal to the most sophisticated of palates, and an "in between" green, Gunpowder which offers both a crisp, clean, mild taste and the visual delight of leaves wrapped tightly into pellets which beautifully unfurl once infused. (These pellets originated to imitate ammunition pellets.)

For in-store demonstrations, brew up one sample using water kettles and teapots that you sell. This enables staff to inform customers about how easy greens are to brew, and how the right kettle can benefit any tea-drinking experience.

Strategically place the green teas available for sale right at the tasting tables along with a short display card of the tea you're offering to include the following information:

• Tea name and translation, as necessary
• Country of origin and estate where it was harvested
• Flavor profile with your own descriptive words
• Type of leaf appearance (pellets, twisted, flat, powders, full leaf, for example)
• How to brew (water temperature and steeping time and quantity of leaf to amount of water)
• Loose leaf or tea bags
• Price
• Any other commentary you want to add

NOTE: Reprint these as flyers to hand out to customers in their shopping bags or have staff pass them out as an invitation to visit the tea-tasting table.

If your point-of-sale area is spacious enough, include signage and pre-packaged teas to encourage impulse sales.

Let the Chef or Baker in You Shine

Nothing is more exciting or creative than using fresh green tea in cooking and baking. Your local bookstore and library are both full of wonderful books of recipes to inspire you to make green tea shortbread cookies, scent rice with jasmine tea, or develop a green tea pesto.

Whatever you develop, formalize the recipe (or several) and offer printouts for your guests/customers. Even better, pass around samples of your baking or culinary creativity along with the recipe and suggest they buy a few ounces of that particular tea to try it at home for themselves.

Temperature-Controlled Kettles Make Perfect Green Tea

Water temperature is critical to brewing green teas well and the best way to insure that you do not render the tea either bitter or weak is to heat the water in a temperature-controlled kettle . The superior function of temperature controls makes brewing green teas a no-fail experience each and every time. Pour in clean, fresh, cold water, set the dial, and the kettle does the rest. Make sure to feature these kettles wherever you display green teas or offer tea-tastings of greens in your store or retail area.

A Very Basic Green Tea Primer for Staff & Customers

The pure sweet nectar offered by spring greens is the category's best selling point, however, we can never assume that all our customers know and understand green teas, so do share this basic tea primer along with a taste and/or use it to educate your employees to share the information with the customers while they taste teas. It's also a great reference to add to the shopping bag at point-of-sale.

All teas grown from varietals of the camellia sinensis can be processed as greens, however, China and Japan are the most commonly consumed green teas and the most well known. Sri Lanka, Korea, and India also process some teas as green. The signature taste of these countries' terroir comes through, the green character is fresh, and the experience is delicious.

Greens are generally harvested and processed during April and May, although some countries may extend the time into June. While these teas can certainly last months with proper processing, packaging, and storage, like any fresh green produce, spring greens taste best during or close to the season in which they have been plucked.

Greens are brewed differently than oolongs, blacks or puerhs. Greens respond best to lower temperatures, generally 165-185˚F., and brewing times vary considerably from thirty seconds to several minutes. The best way to determine brewing time is to taste selections yourself using the wholesaler's recommendations and share your findings with your staff and your customers.

Greens readily adapt to blending with citrus, flower petals, and herbs, but opt for blending ingredients that do not overwhelm the essential character of the tea. The classic additions are jasmine, chrysanthemum, cherry blossom, and delicate stone fruit like peach or nectarine. Blending greens invites experimentation, please do!

All green teas have stimulants including caffeine, theine, and theobromine and the amount varies greatly depending upon terroir and processing technique. Matcha, the powdered tea of Japan, generally has more stimulants than any other.

Adagio carries more 40 classic and flavored greens for business clients. AS well as more than 15 choices for matcha greens, An exceptional, always-changing selection of greens in our MASTERS TEA selection.