Selling
Holiday Advent Calendars And Other Tea Gifts
Last year's super selling gift item is back and ready to be ordered. Our Tea Advent Calendars are beautiful boxes filled with one tea for each day of the season. Every day brings a new tasty treat! What better way to celebrate the season? For wholesale we offer them in cases of six as a minimum. SRP $29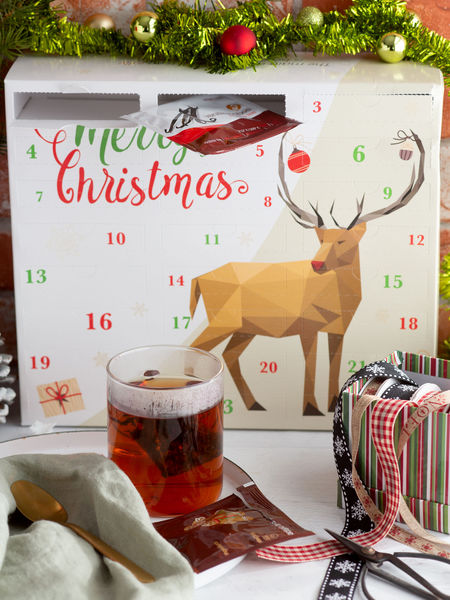 Also back are our popular ToasTEA Travel Tumblers! All three colors are back in stock. These stainless steel insulated tumblers have built-in removable infusers, and a locking cap to prevent spilling. The satin finish and trendy colors make them as stylish as they are durable. Minimum order is twelve units per color, but a mixed case of four of each color is also available. SRP of $29.
COMING SOON to our travel options is the sleek ModerniTEA. This on-the-go tea option has a double-walled glass body for insulation, removable stainless steel basket for leafy infusing, and removable top and bottom lids for easy cleaning. SRP will be $24 and expected case pack is 12. ModerniTEA is expected to arrive late October - just in time for holiday season! All of these travel tumblers make great gifts with loose tea samplers.
Did someone say samplers? We sure did! Please check out all the beautiful, gifty, loose-leaf samplers in the Retail section of our wholesale website here. Themes range from Health Nut teas to Christmas, to Sweet Tooth, and more! They also bundle nicely with mug and infuser sets, teapots of varying price ranges, and simple universal infusers. They are an easy way to make grab and go gifts to make the most of the season.
The ultimate in tea gifting are electronics! Variable temp kettles and versatile tea makers are a tea enthusiasts dream. Please check out our two variable temperature kettles in our teaware section: UtiliTEA and VarieTEA. The former is a 30 oz kettle with a dial that sets to a desired temp range with a $59 SRP; minimum order is one case of 6 units. It is less precise than the latter, but compact and fast. VarieTEA has preset temperature buttons labeled for precision brewing and larger capactity at 57 oz. VarieTEA retails for $99; minimum order is one case of 6 units.
In addition, we also offer an electronic tea maker in our VelociTEA which makes 40 oz in a seamless operation. Simply add water, leaves, and select the tea variety. VelociTEA does the rest. Such a lovely item to bestow upon a tea lover! SRP is $119 with a case pack of 3 units for minimum wholesale purchase.
Lastly, we would be remiss if we did not mention our delicious selection of popular holiday teas available in loose leaf bulk. Some of our most popular blends are:
These are just a few of our popular holiday teas. Be sure to browse the wholesale website for additional options or reach out to us for holiday tea help. Stocking and planning well for the holidays means making the most of your most profitable season! For more information contact us, or visit AdagioXL.com.