Tea
Much Ado About Matcha
As many tea lovers know, that first sip of matcha in the morning brings upon a feeling of serenity and clarity. All the stress and hustle of the world becomes background noise — -the senses are slowly awakened by the caffeine without the smack to the face of coffee. The L-theanine in the matcha provides alertness while also relaxing the body.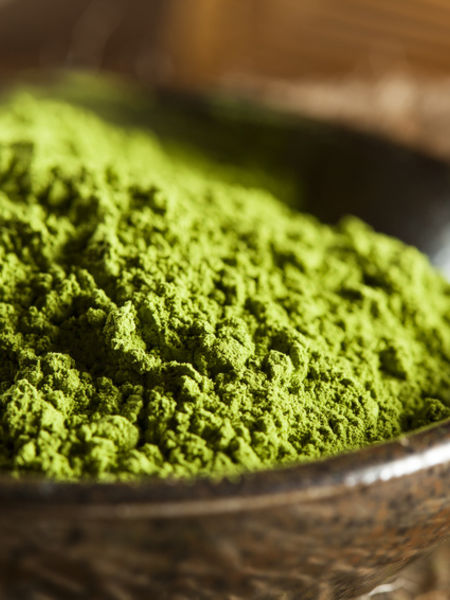 The demand for matcha is high with many people reading about the health benefits of matcha and tea lovers looking to try all the tea they can get their hands on. If you look at the #matcha on Twitter or Instagram, thousands of people have shared photos of their matcha lattes or matcha infused foods. As a tea shop or cafe, it only makes sense to join in on the matcha craze. Matcha can be offered several different ways. There are recipes for matcha combined with meats, matcha in rice, all matcha everything.
Before we delve into the recipes, let's get into matcha!
What is Matcha?
Matcha is a shade grown green tea usually a tencha that is picked once a year, gets steamed, and then kneaded before it gets ground up into a fine powder. Aging the matcha develops the flavor more. It's packed with antioxidants and enough caffeine to replace coffee in a morning ritual. Matcha preparation is a ritual on its own. The focus of the Japanese tea ceremony is the preparation of matcha and the peaceful attributes of drinking it.
Benefits of Matcha
A good sales focus for matcha is the benefits. Matcha has been studied for packing a punch worth of antioxidants and that includes the EGCg, a powerful phytochemical found in green teas. It's good for brain health, heart health, weight loss, and studies show it might help with cancer prevention. That's enough for me to go get a second cup. Studies do suggest limiting matcha to no more than five cups a day. Too much of a good thing can lead to sleep deprivation with all that caffeine, after a few cups, I'd start using it as a face mask. Matcha's benefits aren't tied solely to consumption.
Moving along, let's get to a recipe!
Green Tea Lattes
The most common way that matcha can be presented in a café would be in latte form. Whether iced or hot, both are scrumptious and sure to be in demand.
I find the best preparation for a matcha latte is with 180°F water, filled to ¼ of the cup with lots of stirring. Mix in some agave syrup or simple syrup. (It's fun to experiment with different flavored syrups, like raspberry or vanilla.) Steam up some milk of choice, or per customer's choice, but don't let it get too hot. Aim for the milk to be under 180°, if I recall my experiences as a barista, milk is best to be steamed between 150-160° with 180° reserved for extra-hot lattes. Voila, you got yourself a delicious matcha latte, or green tea latte. For an iced latte, use the 180° water to ¼ cup to mix up your matcha and then add syrup, cold milk and ice.
Green Tea Frappes
Starbucks is known for their delicious blended beverages. Green tea Frappuccino's alluring for St. Patrick's Day. So, let's make a green tea frappe!
Ingredients:
Milk of choice
Ice
Sweetener of choice (syrup is better for blending)
Whipped cream (optional)
Fill a cup ¾ with milk, and ice. Put the contents of the cup in a blender, add sweetener, about a teaspoon of matcha unless it's 20oz then two teaspoons of matcha. Blend on high for roughly 15 seconds. You want it to be well blended without chunks of ice. Pour contents into a cup and add whip. I would add some matcha powder as a garnish to the whip but not necessary.
Now you have a fun summer drink. Mix and match it by adding banana, chocolate chips, or different flavored syrups for uniqueness.
If you'd like to get fun and creative with your matcha, Adagio Teas offers some fun matcha flavors like matcha cinnamon apple, matcha raspberry, matcha peach, matcha chocolate(yum!), and matcha mocha.
Get experimenting away and find what's right for you and your business.
Sources: