Tea
A Trip to Sencha Country
As luck would have it, an opportunity arose to travel to Japan to visit tea farms and meet the farmers. During my time in the tea industry, my palate has certainly evolved with experience and exposure to many teas, eventually settling on fine, crisp, lingering sencha as a personal and professional favorite.
Our travels took us to two of the primary growing regions: Kagoshima and Shizuoka. While primarily familiar with teas from the latter, the former was our first destination and I was eager to learn. So many of the farmers are really embracing organic and pesticide free practices in their efforts to protect the environment and produce top quality products, which was great to see. Kagoshima leans heavily toward the deep steamed (called fukamushi) type of sencha process due to the warmer climate. The leaves in this region grow sturdier and therefore must be steamed longer to get them to give up their delicious essence effectively.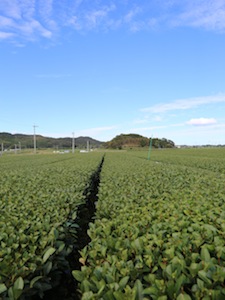 The result is broth-like, richer brews that typically have more broken leaf particles due to the effects of deep steaming. As western tea drinkers have been taught that small leaf pieces mean fanning grade and thus a lower quality tea, which is not at all true in this case, these teas require a little more education on the consumer side but as quite worth the effort as they bring pleasure to those palates that prefer them.
In Shizuoka, which appeared to be an endless carpet of tea bushes, the weather is a little cooler which lends a more tender leaf for the lighter steamed variety – asamushi. This can result in a grassier, crisp, lingering cup but still the deep steaming method can be applied. In weeks to come, I will be cupping similar steaming styles of the same cultivars from each region to get a sense of the terroir of each place - a true tea learning opportunity.
Both regions offer their share of natural beauty and volcanic soils. Kagoshima offers the active wonder of Sakurajima, which occasionally blows steam and ash. We learned that this requires some strategy (and wind direction reports) when hanging out one's laundry on any given day. Shizuoka provides majestic views of the much quieter Mount Fuji and a rich, tea-centric history as well as that of the nearby Oi River.
Every tea farmer we met takes tremendous pride in the teas they produce and are so curious about western tea markets. It was a pleasure to meet them all and an honor to be so warmly welcomed by all. It is an experience I would recommend to any tea lover if you get the chance. I'm more than a little smitten with Japan: great tea, natural beauty, lovely culture and warm people. If you have an interest in Japan teas and/or culture, please feel free to visit my trip photo album on Flickr.