Tea
Spiced Tea (Chai) Season
While those of us in the tea industry know that the word "chai" simply means "tea," to the mainstream US consumer it means a heavily spiced tea, usually sweetened and most likely with milk or cream. There's no use in fighting it. Chai in this context has taken on a life of its own and pervades the market in many forms such as shelf stable concentrates and powdered chai mixes as well as the more traditional full leaf and spice blends.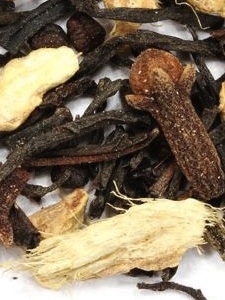 With the arrival of autumn, the demand for chai increases, as the association of cooler weather and approaching holidays with spiced goodies is strong. A fiery-spiced tea warms both body and soul and staves off the melancholy of summer's departure. Meet the demand with fabulous chai offerings this October and satisfy those bored taste buds. A classic Masala Chai with a black tea base will offer a traditional delight and full-bodied richness for the bold chai lovers. Herbal versions are popular, too; these usually are rooibos based and caffeine-free for late night treats or for those who simply prefer.
As the word "chai" has come to mean this very specific type of tea blend, marketing them as such will carry great weight. To ensure success, these teas must delivery bold spices to meet consumer expectations for more than just a milder spiced tea blend. If you serve tea drinks, be sure to offer the classic sweetener and milk versions and if offering loose include recipe cards to help the at home brewer. Their success is your reward - in return business!