Tea
Adagio Wellness 2 – Day and Night
Are your customers always looking for functional herbal blends to ease what ails them? Blending your own takes time and much research, which may have prevented you from filling this need. We are pleased to be able to offer our wholesale customers an easier option with our expanded wellness line. Our Body and Soul set was introduced roughly a year ago and did well for all, now we've added a second set of three more blends to support the daily routine. Introducing Day & Night: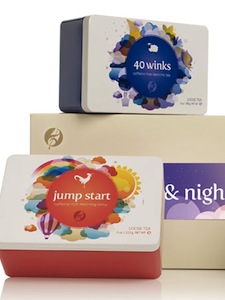 Jump Start – Mate, Kola, and Black tea make up this well-caffeinated blend to make your mornings deliciously efficient.
Day Dream - This afternoon blend is designed to help you wind down after a long day's work for a relaxing evening.
40 Winks - Using a blend of herbs known to promote healthy sleep, 40 Winks will round out your day and carry you into the sweetest of dreams.
Like our Body & Soul set, the Day & Night blends are available in gift tins individually, in sets of all three or in loose bulk to rename as your own. Each is blended with traditional ingredients with the intention of making modern life a bit smoother.