Tea
Pumpkin or Die!
The first crisp evenings that whisper of autumn's arrival have been cooling off summer's hot sunny days here in New England. With these whispers comes the soon to be ubiquitous pumpkin product onslaught. Pumpkin, pumpkin everywhere! This is said with a smirk of course, as this writer finds herself thinking of pumpkin pie as soon as the days get shorter and the hummingbirds start to fly south.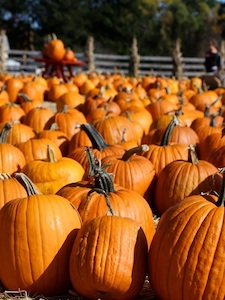 Big coffee chains have already started their pumpkin coffee push. Starbucks started their promotions in August by setting up a Twitter account for their Pumpkin Spice Latte. While some criticized the early pumpkin imposition, it is clearly a clever move by creating cravings and generating buzz. Dunkin Donuts also began their pumpkin offerings on September 1st and began advertising about a week earlier than that. Even Dairy Queen is in the pumpkin game promoting a Pumpkin Pie Blizzard v. Apple Pie Blizzard battle.
So what does this mean to the tea purveyor? Seasonal pumpkin products are big business that you shouldn't miss out on. These food and beverage giants are spending massive marketing dollars to promote everything pumpkin which means you don't have to. You merely have to have something to entice the mad pumpkin craving consumers. Naturally, we are happy to offer our Pumpkin Spice tea in wholesale for our clients, but don't stop with pumpkin tea! Tearooms should offer pumpkin scones and cookies, tea bars and retailers should offer pumpkin tea drinks and pumpkin centric tea gifts. Don't miss out on the opportunity to be ready for potential pumpkin-loving customers!