Tea
Busy Buds!
Taste buds, that is! We are roughly two thirds through our cupping of new harvest teas and waiting on the next round. As with every year, some samples came in spot on while others require additional searching for the perfect lot.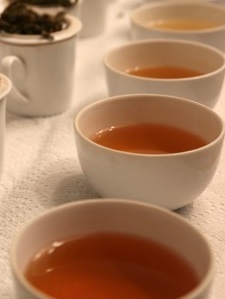 The process of cupping takes up a lot of time but there are no cutting corners. However long it takes matters not as long as we choose well. Even if we urgently need to get in some out of stock popular items, wavering in quality is not acceptable for the sake of speed.
The new harvest always holds promise of freshness and perhaps some new varieties to add, but it also holds risks. Sometimes waiting for a better lot can mean no lot at all if the weather turns against us. We hope to make good choices this year and continue to provide the best leaf at the best prices through our favored growers.
By mid to late September we should have all our new harvests in our possession. Be sure to ask your vendors about any harvest variances on single estate teas and for fresh samples for any that may be significantly different from last year. The inherent differences from harvest to harvest are part of the beauty of single estate specialty tea in their natural form. Knowing this and enlightening the consumer will manage their expectations and further develop their appreciation for all the expertise that goes in to each cup.