Selling
More Holiday Gift Options!
Last month we introduced children's themed teas in gift tins and now happily to report they are favorably reviewed and selling well. Also available is a new line of wellness blends in gift tins called Body & Soul. So far they are also selling well! The teas (technically tisanes) are comprised of an assortment of herbs intended to support various needs. They are:
Tea-Tox - blended with milk thistle, burdock, green rooibos tea, cinnamon bark, peppermint leaves, dandelion root & lemon balm to cleanse the body while lifting spirits.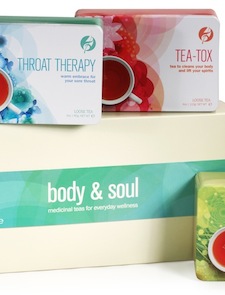 Throat Therapy - blended with licorice root, raspberry leaves, hibiscus flowers, orange peels, cinnamon bark, aniseed & slippery elm to warm and sooth a sore throat.
Happy Belly - blended with senna leaf, licorice root, green rooibos tea, orange peels, chicory, aniseed, slippery elm, pu erh tea & ginger root.
Available for wholesale purchase in boxed sets one tin of each tea or each tea by the tin. Certainly, this sets makes for great gifts now and in January when the overindulgent among us turn our thoughts to repentant New Year resolutions.
In other gift options, cast iron teapots always make an impression, and don't forget about our "manly" gift set UMPH intended for gentleman. It is a great way to introduce tea time to the guys in our lives.
Stocking Stuffers, Spice Jubilee and Hearty Treat are bestselling tea gifts that ensure success every year. Add a nicely priced teapot like personaliTEA and you have an easy gift basket. If you prefer to pack your own tins and pouches, these teas are available in bulk as is our new White Chai. Wholesale clients love it as a Christmas tea: light bodied, fruity, spicy and just a little kick from pink peppercorn.
Wishing you success this holiday season!