Tea
Spicetober!
October is one of the very best months of the year. The weather tends to be forgiving, the deciduous trees turn an array of lovely colors and our palates are ready for some spice. Fortunately, tea and spices are an ancient and favorable combination and lend themselves well to this colorful time of year.
Top picks are always classic Masala Chai, which is a traditional Indian blend of spices and black tea and Cinnamon Spice, made famous in the US by Bigelow's Constant Comment, a soul warmer from way back in the 1940's. Today any combination of tea or herbs with spices can be found to please any seeker of a spicy zest to their seasonal tea sipping.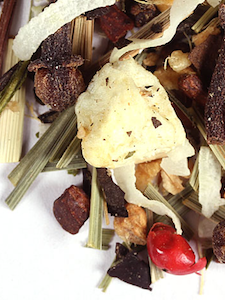 October is also the spookiest month and the official celebration of all things pumpkin! Be sure to include a pumpkin and spice tea in your menu to satisfy this seasonal desire.
Here are our top selling (wholesale) spice teas so far this autumn:
Masala Chai – classic Indian spices in a rich black tea base
Pumpkin Spice – black tea based bestseller for many years with its pumpkin pie-like deliciousness
Spiced Apple Chai – black tea with apples, cinnamon, clove, cardamom, and ginger – makes a wonderful mulled cider
Rooibos Vanilla Chai– caffeine free rooibos with chai spices and vanilla, great for a late night treat.
Honorable mentions go to Bonfire (herbal with a hint of Lapsang), Rooibos Cinnamon Apple, Decaf Spice, and Pomegranate Grove (fruit tisane with a little spice.)
Lastly, we are happy to now offer a White Chai. It can be brewed to varying intensities by changing the amount of tea used, and steeping either like a white tea or like an herbal. Pink peppercorns give it a little kick in the finish.
Hope you find the perfect spice teas to accent your October offering and embrace the wonders of the season!