Marketing
Spiffy New Website Design
Those TeaSmart readers who also are wholesale clients of Adagio's, may have noticed a new look when logging into our wholesale website. Happy to say that after a long wait, our wholesale clients can now enjoy the same features and beautiful functionality as those of our retail site.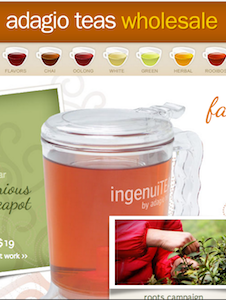 Product categories are arranged within a primary tier consisting of tea, teaware and gifts. By clicking any of these, a secondary tier appears below with subcategories within the primary tier. Clicking on the subcategories reveals an index of the products therein, which can be clicked on in turn to reveal pricing, descriptions, reviews and beautiful images.
One of the most useful additions with this new design is the ingredients are now listed in the product details for your convenience. We are still tweaking the new design, so please feel free to peruse and let us know your thoughts and suggestions. Thanks in advance!