Tea
May is National Strawberry Month!
Doesn't National Strawberry Month sound delicious? Here in New England we really embrace the seasons and the tasty bounty that each has to offer. Toward the end of May, our local farmers offer Pick Your Own Strawberries and nearby towns have festivals celebrating these darling little fruits.
Partake in the month-long appreciate of strawberries by offering teas that honor on of the first crops of the year. May we suggest the following teas?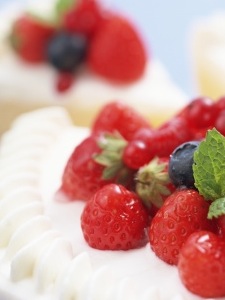 Strawberry Black - Combines the taste of fresh, sweet strawberries with bright, lively Ceylon black tea. Great iced along strawberry shortcake!
Wild Strawberry – This herbal blend will have you smiling like the first pick of the season. Strawberries, apples pieces, hibiscus flowers and rose hips create a mellow, almost dessert-like tea. Sweet strawberry and sugared rhubarb aroma, beautiful warm berry color, pleasantly aromatic and not cloying. A bestseller for iced tea all spring and summer!
You can also create icy tea drinks, by brewing a 2 to 1 tea concentrate and pouring over chilled or frozen strawberry puree. Use simple syrup (equal parts sugar and water heated until the sugar melts and cooled) if sweetening is desired. Adding cream, yogurt or almond milk will add a depth and silkiness to the concoction. Ah, the joy of tea!