Industry News
World Tea Expo 2012 - Recap
Tea professionals gathered this week in Las Vegas for the 10th World Tea Expo. Show and industry veterans reminisced and waxed poetic about the show and evolution of the US tea industry.
Day one was frenetic, with a constant flow of visitors to our Adagio Teas booth; we had hardly a moment to gather thoughts. While some exhibitors later stated they thought the show traffic was slower than last year, we gladly did not have this experience. Meeting current customers, potential customers and many of our tea industry friends, the show kept a lively pace for us though all three days.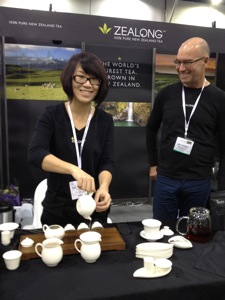 New to the show was Argo Tea. A tea café originating in Chicagoland, they have been in the tea biz since 2003. Steadily growing their café concept, they were showing their line of Argo branded bottled teas perhaps poised to build brand awareness via the ever popular RTD iced tea arena. You can read more about Argo Tea here.
Takeya USA, a division of a Japanese company of the same name also exhibited their colorful, attractive tea wares. Their International Home and Housewares Show booth is always popular with attendees and the same seemed to be true at the WTE. Providing fun and functional teawares such as the Takeya offerings, encourages the consumer to more regularly include tea in their daily life. Making high quality, loose-leaf tea easy to use is certainly advantageous to all in the business of selling tea and Takeya products with their modern designs admirably fit the bill.
Zealong! For you New Zealand oolong lovers out there, Zealong was exhibiting again this year and kind enough to brew their Pure and Dark oolongs for us. This taster's past personal favorite has always been the Aromatic, but the Pure and Dark are starting to catch up to their more complex sister tea. The Dark especially caught my palate has having gained complexity with this year's harvest. Sweet honey and delicate fruit nuances whispered and lingered after each sip. Kudos to their progress!
In other oolong offerings, we were fortunate to be located kitty-corner across from Mountain Tea Co. Their Li Shan delighted our taste buds as did their roasted Ti Kuan Yin. Periodically, the very kind proprietor, Chicco, would bring his wonderful brews to us in our booth. New tea friends with benefits!
Thistledown Cozies, makers of various tea accessories and even guy-friendly teapot cozies (Check out the HOB here), came by our booth to show us her latest items. It is a padded zippered caddy to go, with small tins for your leaves and a section to hold an infuser mug. We always look for great ways to bring tea on the road, and think they are really on to something. The fabric pattern was super cute, gender neutral and the design functional.
As a tea buyer, the show can be tricky: my suitcase morphed into a tea trunk, worthy of a trip to Asia. Packed with samples from eager tea growers, clothing and other essentials had to be relegated to the now unzipped, expansion portion of my suitcase. Notably, a generously large (perhaps a full pound) container of tea was presented from Surya of the Wah Tea Estate. Cupped on my first day back in Connecticut, the silky smooth cup sung songs of its origin in the foothills of the Himalayas. Darjeeling-like but with a slightly different essence, it was reminiscent of a fine Nepalese grown leaf. Also in my 'trunk' are various samples from Japan, Korea, Kenya, India and a couple of love notes from TSA. Apparently, my leaves inspired three searches. First, cupping our 2012 China samples takes priority, but soon I'll be delving into these beauties.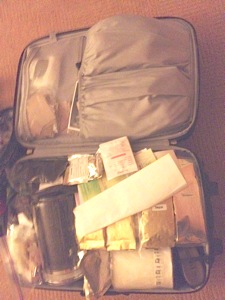 Lastly, I offer my congratulations and sincere thanks to Kim and George Jage for ten years of congregating the US tea industry at the World Tea Expo. Thank you for all the customers, contacts and tea friends. Kim and I got misty as we talked about the previous decade and what the future holds. Never in my early days did I dream there were so many people who shared my passion for tea. We are so very fortunate for the opportunity to find friends by merely peddling leaves.