Selling
Coming Soon! VarieTEA Electric Kettle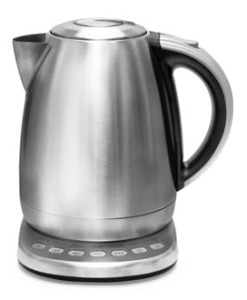 Fans of our modestly priced, bestselling, variable temperature kettle, UtiliTEA will be glad to see a slightly more upscale version in our new VarieTEA Kettle. Details from our website:
"Our new VarieTEA water kettle has precise settings for all tea varieties, making it easy to achieve a water temperature that is ideal for your tea of choice. It also adds a keep warm feature that will maintain a selected temperature for a half hour.
This durable stainless steel cordless kettle (cord is attached to the base) is a must-have for connoisseurs who enjoy a multitude of tea varieties. Temperature settings include 150, 165, 180, 195 and 212F. Concealed heating element with boil-dry protection. Black non-metal parts are made from Tritan copolyester, a new BPA-free material. Made in China. 57 oz (1.7L). 1500 watts. 110 volts."
Plan for this item to be a holiday season bestseller, as it will make a great gift set with a brewing vessel and perhaps a tea sampler. Please contact us for wholesale information and plan your holiday gift offering today! VarieTEA Kettle is expected by the end of July!