Tea
China Trip
Last month, I went on a tea trip to China with two colleagues for Adagio Teas. Suzette Hammond was kind enough to write about our trip as we went along, but I'd also like to share a few personal impressions of the trip.
First, the people we met were warm and friendly. They were generous and kind. We were continually impressed with the warm receptions we received and the pride of the people in each region we traveled. Of course there were language barriers even with our lovely and talented, multilingual Lydia there to guide us, but our hosts found ways to make us feel welcome and bring smiles to our travel weary faces. Everyone wanted to share their respective craft, cuisine and culture with us. It was and is deeply appreciated.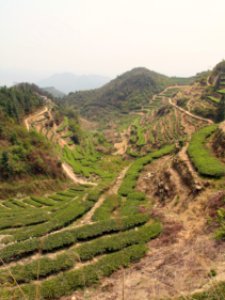 The tea gardens are gorgeous. Nearly twelve years ago, when my foray into the tea world began, I tried to imagine what the tea gardens that I read about would look like. In my mind I saw lush greenery, sloping mountainsides, and misty peaks. Reality did not disappoint. Standing on that first Ti Kuan Yin field in Anxi, hip-deep in Camellia Sinensis bushes, it was just as beautiful as I envisioned. As much as the hike up to the mountainside where we stood took my breath away, the view and the fresh aroma held it still. Was I really here? Was I having some sort of tea dream? I mean, there was tea everywhere you looked. Amazing!
Fortunately, Adagio armed me with a fairly serious piece of equipment in a high quality DSLR camera. Later that night when we had returned from the mountains, we had proof that it was not a dream, having had taken (300 or so that day alone) pictures of my beloved Ti Kuan Yin oolong growing happily on the branch, 1,000 or so meters up - en plein-air.
As we went along, reality was not always so dreamy. Cars, planes and buses carried us along great distances to our various destinations and sapped our energies. Sometimes the wonderful and exotic foods we ate didn't agree with our American bellies and many times we simply missed home. But each new tea garden held new delights, new farmers to meet and different teas to cup. I've been home slightly over a week and still can't quite believe it really happened.
The pictures, videos and articles we shared from the trip hopefully brought a little piece of our adventure home for you to enjoy. All true tea fans should have this experience at least once. But if you cannot go yourselves, it's okay, because in our hearts we brought our tea-friends with us.