Industry News
Trade Shows - Fast and Furious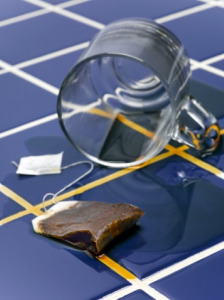 June has gone by fast and furiously for us at Adagio Teas with so many recent trade shows. As always it was great to get out and meet folks! For those that we had the pleasure of seeing, hope you enjoyed the shows as much as we did and think you will agree that every show was high energy, bustling with activity and really a great sign that the economic squeeze is relinquishing its boa constrictor-like grasp. It certainly seems business owners are gaining confidence and ready to grow.
The first signs of these hints of recovery were at the Winter Fancy Food Show back in January, but after the situation in Greece affected so many other economies, we weren't sure what to expect, but the National Restaurant Show, World Tea Expo and Summer Fancy Food in NYC have all reported great turnouts and yielded many leads that seem to indicate the popularity of tea is still on a strong upswing!
From our tea-centric perspective, business owners seem to focusing on raising quality even in fast casual style restaurants, leaving behind standard fanning-filled tea bag options for either loose teas or premium, usually pyramid style teabags. Everyone seems to be grasping the notion that tea comes in a wondrous array of flavors and does not have to be a murky uni-faceted cup of dreariness - and shouldn't be!
Lastly, we are proud to tell you a little product news. We entered our Anteadote line of organic unsweetened bottled teas in the World Tea Expo's 2010 North American Tea Championship Iced Tea Class this year. Three out of the five varieties we offer won prizes. First place winners are our Black and Oolong Anteadote varieties and our Green Anteadote taking a not-too-shabby second place. These awards brought great attention to these delightful and convenient alternatives for tea drinkers on the go. Our customers have found them to be great in grab-n-go restaurants and upscale delis and cafes. In addition, the Anteadote line has been deemed perfect for spas, upscale hotel mini-bars, and catered events where a ready to drink option is essential. They also work quite well pool and beach side for their zero calories and non-breakable bottles. We're very proud to be offering the Anteadotes!
Also drawing attention, though we did not enter them in any contests this year, are our Masters Collection artisan teas, recently added to our loose tea line. These finest teas are exquisite and intended for sophisticated palates and as a next level for those seeking 'tea enlightenment.' In addition, we launched a new line of six organic pyramid style tea bags in re-sealable pouches. Irresistible flavors such as Blueberry White and Ginger Peach, and loose tea quality with teabag convenience make this an attractive line with gorgeous packaging for retail sale or easy food service. (For additional info on all these products, please email me.)
Aside from seeing current customers, future customers, friends and our esteemed competitors the best thing we saw at all of these shows this year was confidence! Everyone seems optimistic and energized for the second half of 2010!