Tea
Strawberry Season!
June kicks off the season of summer berry-liciousness! Berries are one of nature's gifts of wonder. Not only do they offer antioxidants galore but more importantly - fresh, ripe, in-season berries really deliver fabulous flavor. As tea people, we are incredibly spoiled - strawberry teas are available all year to delight our palates. Even so, every June thoughts turn to strawberry teas with more intensity.
Ramping up for strawberry festivals and local pick-your-own farms ripening strawberry harvests make this the perfect time of year for brewing up some strawberry iced tea. Adagio Teas' versions, such as Strawberry Black and Wild Strawberry herbal - already immensely popular, make great accompaniments to every strawberry dish you can imagine. Both teas contain genuine dried strawberries adding to their visual and culinary charm.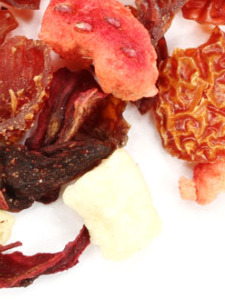 If there is a strawberry festival in your community, promote your business by offering teas there to suit the occasion. Be sure to include business cards or informational handouts so potential customers can find you after they fall in love with your teas!
You can also have your own strawberry fest in your teashop or tearoom. Strawberries make a great salad ingredient (especially with balsamic vinaigrette and sliced almonds - yum) and who doesn't love strawberry shortcake, strawberry pie, strawberry cream tarts, strawberry ice cream, and chocolate covered strawberries? The Internet provides a cornucopia of strawberry recipes if you are looking for something different to offer - just make sure you include fine, fresh strawberry tea to complete the theme!