Tea
Snowbirds (and Tea)
Winter is upon us and entered in grand style this past week by besieging those of us in New England with unrelenting snow and wind. Now that the holidays have past, we take a moment to catch our breath and consider the dark-eyed junco.
Awaking to find yet another snowstorm and mighty frigid winds howling outside, I was delighted to see some ornithological visitors at our feeders, different from the usual cast of characters. The dark-eyed junco is a medium sized sparrow type snowbird. While they can vary in color, the ones we saw were a deep slate grey on top and tail, little pinkish beaks, white bellies and white side of their tails when flying. To my amazement these stalwart little birds kept dining at our feeders all through the storm. Icy wind gusts up 50 mph could not deter them. As the snow drifted and blew, the little juncos lived life as if it were a sunny June day.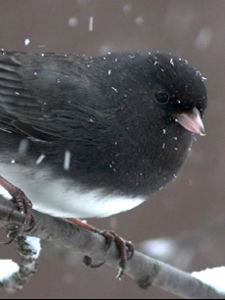 The juncos charmed me and brought to mind the little joys of winter even though we whine about the cold and inconvenience of snowstorms. One of them, of course is a favorite cup of tea to chase the chill away. We have some lovely suggestions for post-holiday winter teas.
Blood Orange Herbal - this fruit tisane is a bestseller every winter. Cheery with its sweet citrus note and tangy hibiscus and apple peels, this naturally caffeine-free herbal is sunshine in a teacup!
Rooibos Vanilla Chai - already a bestseller for the short time we have had it, this spiced rooibos blend with a hint of vanilla is a great by-the-fire evening tea. Also naturally caffeine-free, a little sugar and creamer and you have a wonderful herbal chai latte.
Mango Black and Mango Green - mango is a sunshiny bright flavor and sells well for every teashop we know. Whether in green tea or black tea make sure you have this essential on your menu.
Christmas - while the holiday has passed our popular cinnamon orange spice black Christmas tea is available in wholesale year-round. Please feel free to carry it under your own special tea name. It goes great with sugar cookies - don't ask me how I know!
White Tropics - a little touch of the Caribbean makes everyone's winter less blue! A pai mu dan white tea base with pineapple coconut flavor and rose petals for a warm, tropical experience.
Watching the little juncos was a lovely experience. A great cup of tea can bring the same fascination and amazement. For snowbird watching may we also suggest our Keemun Rhapsody China black tea? Depth of character with cocoa notes, biscuit-like nuances, soft smokiness and a whispering fruitiness to warm you as you appreciate winter's wonders.