Selling
Holiday Season 2009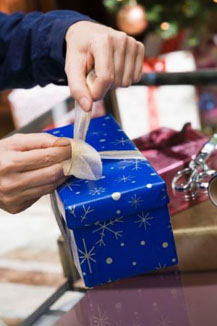 ...Is not for the faint-hearted. There has been so much anticipation and so much debate about how much stock to carry or not carry. And oh so much nervousness! But by all accounts, people are out there, spending and looking for ways to gift appropriately and make the people in their lives feel special.
How to do that? Tea! It is the perfect gift. Warm or chilled, it is a feel good, affordable luxury. Perfect for the health conscious, perfect for foodies and perfect for anyone who just likes a treat every now and then. Paired with a nicely priced tea gadget or brewing apparatus, it can be cost effective and still say what the heart intends.
Expect more than ever that people will stick to their budgets, but if you give them a good deal they could buy in multiples and hopefully spread the word. Popular promos are coupons offering a deal on their next visit to ensure return business as well as gift cards that promise a little extra percent off or a free give with purchase when used. Incentives to visit again are vital! Make sure you make it worth their effort!
Lastly remember, tea is a product that sells all year long, especially in the colder months. Don't worry about a little overstock. It is much worse to not have enough on hand when the customer comes a-calling and expects you to be ready!