Industry News
Summer Fancy Food Show 2009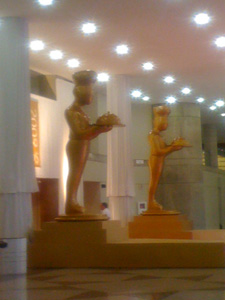 Every summer New York City's Javits center is the venue for the NASFT Fancy Food Show - a veritable cakewalk of treats and trends in the gourmet food industry. As many of you also offer food or sweets to go with your tea selection, it seems like a good topic to cover.
Whether you offer high tea or a more casual tea experience it is always smart to keep your fare inspired and even a little cutting edge. Scones and finger sandwiches certainly have their place but it might be nice to breathe new life into the menu. Unusual variety will spark interest in your new offerings can encourage customs to return more frequently.
If you did not have the opportunity to attend let us summarize the heavily represented categories for you:
Cheeses - artisanal, imported, fried - Brie and goat cheeses seem to be ubiquitous
Tea Infused Confections - Yes, our beloved beverage has become a popular ingredient!
Olive Oils - Always a staple at home you can find the very finest at the Fancy Food Show.
Chocolates - A dangerous place for a chocolaholic with so many vendors and so many unique flavor combinations. From the classic to the sublime, every imaginable type of chocolate was represented.
For the tearoom owner there were clotted creams, a plethora of miscellaneous confections and even fine crackers. There are many ways to upgrade or add excitement to your tea service.
The NASFT sponsors the famous SOFI awards, which stands for "specialty outstanding food innovation." You can use this list of finalists and winners to vitalize your menu or as a special tasting event of all this seasons finest food innovations. The website below will take you directly to the finalist page. Each of the vendors listed will gladly provide additional information on their product:
There is also a west coast Fancy Food show that occurs in January in San Francisco. If you attend either please be sure to come by the Adagio Teas booth!