Selling
Ideas for Profitable Cross-Selling
Cross marketing is an easy, low cost way to bring attention to your teas and accessories by incorporating other products or services that you and your business neighbors offer. You already cross-market each time you display a teapot, strainer or other tea equipment alongside your teas. This cross-marketing is a subtle, yet effective, way to remind customers of "non-obvious" items you offer or to introduce new tea-related products you sell that can enhance your customer's enjoyment of tea. Here are some fun and profitable ways to cross-market in your shop window, on display tables, and anywhere you have products for sale.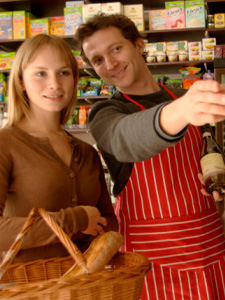 Set the table for profit
Using a small table or display counter to imply a table set for tea, you can draw a lot of attention to a wider variety of items from the linens on up: plates, cutlery, teacups, strainers, boxes or open samples of tea, boxes or open samples of cookies or biscuits, three-tiered trays of other food items you sell. When customers pass by this table, they can sample the foods, get ideas for table service, and be reminded that anytime they want to entertain English style, they can buy the wares and foods from you.
The table can be reset every week with something new to promote. You can go wild and creative or silly. How about a "ball of fun" featuring tea balls, mudans or tea, cognac "ball" glasses or other things in the round from coasters to doughnut holes to - well, you get the idea.
Next week, it might be a table of Japanese cups and hobnail pot, beautifully appointed linens of pale sage and ecru, and samples of Japanese sweets along with your varieties of Japanese green teas. Then, you can do something similar to China, India, Ceylon. Don't forget to use books, greeting cards, or invitations to add to the glamour or charm of the setting.
Build a Basket for Success
The late spring/early summer season is an incredibly profitable one, especially if you create special Mother's Day, Father's Day, Graduation and Bridal baskets featuring products, teas, foods, and gifts. Look around your shop and gather together something from each category in the place and make theme baskets that SELL.
For a dedicated mentor, teacher or business associate, consider a beautiful wooden tray, a lovely teapot and cup for one, and the absolutely best tea you can afford, along with an elegant tea caddy, to demonstrate how valuable they have been to you. Add a sophisticated diary or desk accessory and you will cross-market for success.
Load up a basket to introduce the concept of pairing teas with other connoisseur foods: great cheeses with exceptional oolong teas, pure matcha with deep dark chocolates, clean Darjeeling with fruited jams. Add some recipes for cooking with tea, and you have a great gift idea for the foodies on your customer list.
How about an easy-to-use teapot, two mugs, a sampler pack of teas and a phone card for the college-bound or off to their first job to encourage time for tea instead of the proverbial coffee break or water cooler stop? (And, a call home to report on the "new life" in the office or dorm. Or consider a couple packages of flower seeds, a small vase for the results along with a flower-bedecked teacup, and a variety of sugars and sweeteners to go with fruited teas for petal lovers looking forward to the bounty of their gardens.
A gift basket, by the way, doesn't have to be a basket. It can be a bucket, a tray, a salad bowl, a large flowerpot. Here, again, a marvelous way to cross-market with other shops. And, no basket should leave the shop without your business card (or better yet, a gift certificate) to insure the "giftee" knows where to find her delightful tea items again.
Cross Market with Your Neighbors
An extension of the basket idea is to work with business neighbors to show off their service or product along with yours.
Ask a local nursery or patio furniture store to set out a tray of tea things on a table amidst plants. Set out a pile of your cards or a tent card about your shop offering a discount for anyone who brings in that card during the next thirty days.
Realtors are always looking for ways to keep prospective clients in their open houses long enough to turn them into customers. Offer to prepare a hot pot of tea and cups for a few Sundays. In exchange you can put a display of the packaged teas, your business cards and information about the tea being served. And, for those realtors looking for a thank you gift when closing a sale, suggest a gung fu set, afternoon tea set, or tea-for-two combo basket prepared exclusively for them! Next time the realtor represents a listing with a perfect tea-drinking corner, return the favor and post a flyer on your window. It may be just the house a customer is looking for.
You can ask for suggestions from your local nutritionist or a Weight Watchers� group for food items that are low fat or low calorie to go with your teas (which have no calories�yeah!) Put out cards or brochures leading customers to the local contact and ask them if you can display your products and business cards in their office for a delicious cross marketing idea. Travel agencies are a terrific source for posters and "props" that indicate the exotica of India, China and other tea-growing countries. Ask them to include brochures, boxes of tea or tea accessories when they promote packages to Great Britain, tours to Japan, Kenya, China or other of the 35+ tea growing areas in the world.
Ask yourself how you could relate someone's product or service to yours every time you visit another shop or business. Ideas for props and displays are everywhere. Bring them home to your shop and reap the extra dollars that amass when you cross-market. Ideas are everywhere! Share your ideas, and we'll publish them in an upcoming column. Write dianalrosen@aol.com