Marketing
Harvesting Fall Promotions
Just like Rev. Smith, avid tea drinkers are always thankful that tea exists. It quenches, invigorates, and is the perfect beverage to unite friends and families any day — especially during the fall season when the air is crisp with new beginnings for the school-bound, gratitude for the season and its eponymous Thanksgiving Day.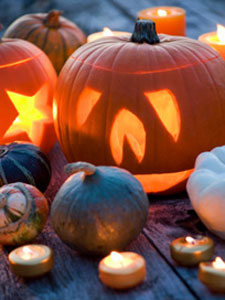 Whether you're located in a paradise of fall foliage bursting with vivid reds or where the leaves are always green, fall is a wonderful time for letting those creative juices flow and successfully marketing not only iced teas that cool you off in summer but teas perfect for the upcoming holidays.
Here are a few ideas for marketing teas for fall in your shop or tearoom:
College Central
Are you close to a university or community college? Fall is definitely the time to let the students know about your terrific inventory of teas and accessories. Make Saturdays Tea Tasting Days for anyone who shows up with a student ID; they get 10% off specified teas or accoutrements. The kids will love learning about exotic teas, getting a "safe buzz" and discovering a cheap date.
Here are a few ways to reach both students and faculty: Advertise your teas, services, and tea tastings in the student newspaper. Remind everyone about your Gift Basket services, too! And post fliers on student bulletin boards about your monthly tea specials.
Write to all department deans and suggest Faculty and Friends Tea Tastings at the school or in your shop, and offer discounts with university ID. Contact the international organizations at the schools, both for students and faculty members. Tea is the World's most popular beverage; make sure they know about your shop!
And call to meet the food services purchasing agents; shouldn't they be serving better teas...like the types you offer? You can start small by selling your teas to the floating beverage carts, work your way up to faculty meetings, then the cafeterias and restaurants on campus.
Gift Baskets
It doesn't have to be Mother's Day or Christmas to remind customers that gift baskets are simple, easy ways to celebrate the Jewish New Year, (Rosh Hashanah), introduce your family to new school teachers or professors, or to honor friends or the elderly who are housebound, or as a different way to acknowledge birthdays or anniversaries.
Create a gift basket showcasing the best packaged foods, accessories, and teas with fall colors of orange and brown or green and yellow or those that reflect your shop's signature colors. Use blue and silver ribbons for Jewish New Year gift baskets and include kosher teas and a pretty blue and white mug, and, for teachers, decorate in red and white with lidded mugs, tea balls or quality tea bags, and add some fresh fall apples just for fun.
Prominently add an envelope marked Gift Certificate in the basket and place signage on the display table indicating the price ranges of Custom Gift Baskets such as "Gift Baskets Created to Order from $25 to $200. Gift Certificates Available, Too!"
Halloween
Children still expect sweets while trick or treating, however, for the many adults who love this holiday, suggest flavored teas instead of the typical apple cider. Package apple teas, cinnamon or spice orange teas, or chocolate or mint teas in cute plastic pumpkins or black mugs to add this holiday to your marketing schedule. And, don't forget citrus flavored cookies and candies, and other "Halloween appropriate" foods and tea-related items. This is a fun marketing scheme for which you can let your imagination rip!
Thanksgiving
Abundance is the keyword for our national holiday, and what better tea is there to help us digest this bounty than Pu-Erh? Its natural digestive qualities are legion, it's a great tea to introduce to coffee lovers, and it's unusual.
Other teas to suggest as hostess gifts or for the Thanksgiving Day hostess to provide for her guests are an autumnal Darjeeling, a spicy chai redolent with the spices of clove, cinnamon, ginger, and anise or pepper, or perhaps your own brand of orange or lemon flavored teas. And, remember, fruited and scented teas to add a lingering touch of summer as the temperatures drop. (For some reason fruited teas do well in cold climates; they seem to trick the brain into thinking the fruitiness is warming!)
And, what hostess wouldn't enjoy receiving something tea-related like the newest solo teapot or tea decorated napery or even a pretty cup and saucer? Look around your shop and put together a display of hostess gifts in several spots in your shop or tearoom as suggestions for gifts for Thanksgiving or to encourage your customers to give a tea-related gift to say "Thank You" to those people who have helped them throughout the year, such as ministers and rabbis, teachers and employers, friends and co-workers, and people with whom they volunteer. Place a suggested menu of the freshest loose-leaf teas to accompany these hostess gifts, too!