Serving
Great Teas for Hot Toddies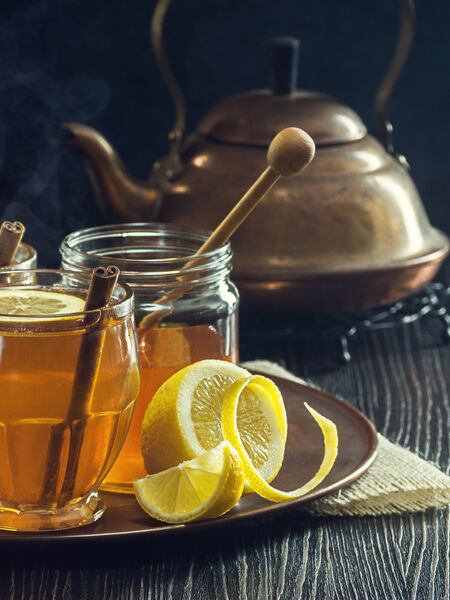 Try our tasty teas for hot toddies! Keep your customers warm with hot tea toddies. Hot toddies are all the rage now with cafes, tearooms, and restaurants keeping guests safe with outside dining- even in chilly winter temps. Don't use mediocre, sub-par commercial grade tea bags. Level up and treat your guests well with loose-leaf premium teas or premium pyramid full-leaf teabags.
A hot toddy is a traditional hot beverage made with tea or hot water (the best ones are made with tea, of course!), alcoholic spirits, honey (or sugar) and spices. The most commonly used spirits are bourbon, brandy, whiskey, and rum.
The most traditional and basic hot toddy recipe is steeping a hot cup of a favorite black tea, add a shot of brandy or whiskey, a squeeze of lemon, and a cinnamon stick. From this staring point the variations are near limitless.
Here are some tastiest tea ideas for your hot toddy menu:
Irish Breakfast – This hearty blend of full-leaf Assam and Ceylon is a great base for a classic hot toddy. Malty and rich, add lemon, cinnamon, .5 oz honey or simple syrup, and 1.5 oz brandy and serve in a glass footed mug.
Masala Chai – Our bestselling chai has the spices already blended in, so once steeped, (2 tsp per cup for full body and spice notes) simply add a squeeze of orange, .5 oz honey (try whipped Cinnamon Honey for more spice), 1.5 bourbon (or maybe Grand Marnier), and garnish with star anise. TIP: Offer a decaf version with our Decaf Chai!
Golden Turmeric Chai – Our newest chai, this caffeine-free blend of spices and turmeric are a comforting base for an herbal tea toddy. Already loaded with spices, just steep 2 tsp in hot water for 7 min for full flavor, and simply add bourbon or tequila as your spirit. Our herbal honey is a perfect sweetener and garnish with a twist of tangerine or candied ginger.
Offering a booze-free mocktail toddy is a nice way to keep tea-totalers and designated drivers toasty and in on the fun. Steep our Kentucky Bourbon tea hot, add .5 oz simple syrup, and muddled mint leaves for a warm winter julep. Garnish with fresh mint leaves and a twist of lemon.
Don't be afraid get creative and select different tea types to go with different spirits, sweeteners, spices, and fruits. Our Cha Cha with gin, simple syrup and lemon zest sounds like our next experiment! Or Chocolate Truffle with Chambord and coconut cream! Cheers!