Tea
What Are The Best Teas For Anxiety?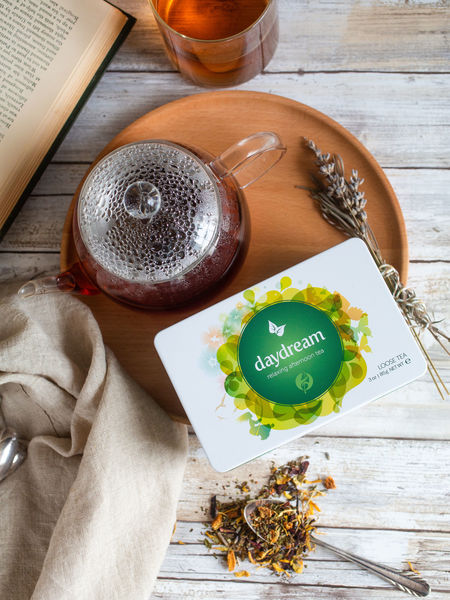 In recent weeks, one of the most frequently asked questions from our business clients is which teas help with anxiety. With some much going on in 2020, we completely understand this need. Consumers and business folks alike all seek soothing beverages in these challenging times. Fortunately, many herbs, spices, and even true teas can help with anxiety, depression, and nervousness.
The most obvious is chamomile, which is really a powerhouse as an herb. It is not only soothing for the nerves, but also calming for the tummy and loaded with antioxidants. The only caveat with chamomile is that it may trigger seasonal type allergies in those who have a ragweed allergy, as these plants are in the same family. This can mean sneezing, stuffy noses, and itchy eyes, and good to be aware of when making recommendations. In the cup, a good quality chamomile will be lightly sweet, with apple-like notes. When super fresh, it might also have notes of sweet grass, but these notes mellow a few months after harvest.
Daydream – Our Daydream blend in the wellness section of our B2B website, is specifically blended with a medley of soothing herbs for emotional wellness. Passionflower is a key ingredient that is traditionally used for its calming effects.
Foxtrot - A long time bestseller in the Adagio herbal category is the lively, yet soothing Foxtrot. Blended with chamomile, peppermint, and muscle relaxing rooibos, with a touch of comforting vanilla, it is as delicious as it is relaxing. It is one of this writer's favorite evening comfort tisanes and a near nightly ritual.
Cha Cha – This chamomile based herbal blend that also has anxiety reducing lemongrass, and tension-easing peppermint.
Peppermint is also known as tummy soothing which is great for those who have stress induced digestive troubles.
Rooibos and Honeybush – Rooibos and honeybush are well known for their comforting qualities, which include soothing tense muscles. You can't go wrong with any blend that includes these caffeine-free herbs from South Africa. Our favorites for calming nerves are Rooibos Cocomint and Honeybush Banana Nut for their comfort food qualities.
Hibiscus is known for its tangy deliciousness, and loads of antioxidants, but it may also temporarily reduce blood pressure. Please note that consumers who use a diuretic drug for hypertension should avoid hibiscus tea as it may interact with the medication. Our favorites here are perennial bestsellers: Wild Strawberry and Blood Orange.
While all of these suggestions are caffeine-free, sometimes you may need soothing, but also a little energy to carry on with the chores of the day. In these cases, a light, crisp Sencha or aromatic Jasmine Phoenix Pearls green tea may be perfect for providing a little calming L-Theanine while also offering modest amounts of caffeine.
L-Theanine is an amino acid that naturally occurs in true teas (camellia sinensis) and is known for its naturally relaxing properties that won't induce drowsiness. For those who are not particularly affected by caffeine jitters, even black tea can be super soothing because of L-Theanine and the warming comfort of a hot beverage. In these cases, a smooth China black tea like Golden Monkey is rich and quite relaxing.
With all the stresses of modern life and in particular, this challenging year, keeping a well stocked offering of comforting teas is as compassionate as it is good business sense. Take care of your customers and they will, in turn, take care of you. These teas and herbals are available in loose leaf bulk for our registered business clients at AdagioXL.com