Tea
Spicy Teas as Holiday Treats
Festive tea options sparkle during holiday season as well as throughout the cold weather months. Be sure to include various chai blend options for hot tea, tea lattes, and boba if you serve it to warm those chilly winter souls.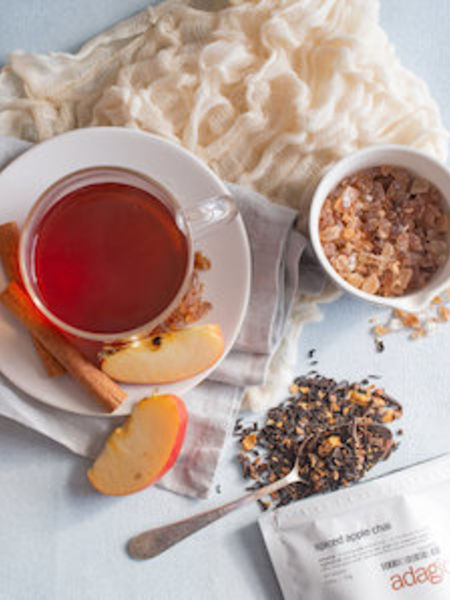 Our bestsellers are:

Raja Oolog Chai - The rich complexity of oolong tea lays a smooth foundation for a majestic cup, packed with savory spice notes and hypnotic aroma.
Masala Chai - Our classic chai! Black tea with cinnamon, cardamom, cloves and ginger. A warm and inviting fragrance, zesty flavor, and invigorating, aromatic finish.
Spiced Apple Chai - A lively blend of black tea, classic spices from Indian Masala Chai and bright notes of crisp apple. Juicy and pleasantly sweet, like warm applesauce, with a clean, refreshing texture. Try it to make mulled cider.
White Ayurvedic Chai - the delicate flavor of white tea and blended it with familiar chai flavors and the added zesty notes of lemongrass, coconut and pineapple. Steep this aromatic beauty for a complex cup of fruit and spice that leaves the alluring essence of cinnamon dancing in its wake.
Rooibos Vanilla Chai - rooibos, vanilla, and Chai spice will dance on your palate, and sing to your soul. Beautiful clear and bright cup, with a crisp and tangy-sweet flavor. The heat of the spices is balanced beautifully with the natural smooth, mellow quality of the rooibos. Naturally caffeine free for an anytime treat.
Fiery Cinnamon - Hot and sweet cinnamon flavor, blended with Ceylon tea, orange peels, and cloves for an amped up, kick-in-the-palate cinnamon experience.
Rooibos Cinnamon Apple - Naturally caffeine-free, sweet, and smooth, This blend of rooibos, apples and sweet cinnamon are perfect for winter evenings.



These are all great hot or iced or even as an ingredient in your favorite seasonal confection: pumpkin pie, spice cake, cookies, and more.