Industry News
World Tea Expo!
So, have you read enough show recaps? If so, then you know most of us who attended and exhibited came back pretty excited. This year's show, while smaller, seemed to have a vibrant energy. There were a lot of new attendees, many serious start-ups, but also industry veterans who came for the classes, new products and camaraderie.
The coolest things, on which we all seemed to agree, were the Sharp Tea Cere (aka the matcha machine), the Crafttea Ultimate Tea Maker and some delicious offerings from origin. We sampled tea from 1,300 year-old Yunnan tea trees as well as some from youngsters growing in the misty mountains of Columbia.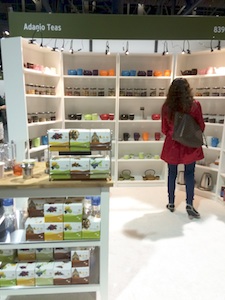 If the show is any indication, our industry has a healthy pulse with the creative energy of new entrepreneurs and the stability of established business veterans. The show moves back to Las Vegas next year and at a later date as so not to be so close to Mother's Day. Let me know what you thought of this year's show and if you plan to go next year. Big thanks to everyone who visited our booth and took time to chat. It was great to see you all!