Tea
Growing Conditions
Tea is a natural product. The first sentence should surprise no one reading this article, but the significance of that statement might truly surprise the uninitiated.
For the most part, the best teas are produced in the spring and sometimes very early summer. The quality and timeliness of harvests is directly affected by growing conditions in their various regions. Rain, wind, sun and temperature all come into play. A long, lingering winter can mean a late harvest for even the best tea gardens. There's no rushing Mother Nature.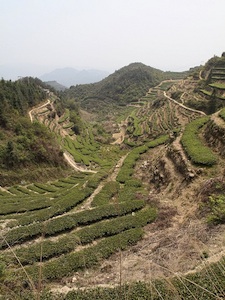 Back home, eager tea tasters cup lot after lot looking for those comparable to what their companies previously offered while their teams analyze sales, anticipate growth and markets trends to try to determine as best as possible, how much of each tea to purchase. When conditions at the gardens are challenging, the best crops may come at a later time than the previous year, thus adding a couple weeks or even months into the purchasing timeline. These unanticipated delays leave a gap the supply timing that can take a couple seasons to recover from.
In very challenging harvest years, certain teas may never reach their classic taste standards and leave the tea purchaser with a difficult decision to make: accept a lackluster crop or not carry the tea at all for the next cycle year. If the tea in question is a staple such as English Breakfast, pulling the best possible lot even if lacking is usually the way to go. Hopes are that the client will adapt, understand the vicissitudes of natural products and accept the best that could be found.
In the case of a more esoteric tea, the best course of action may be to skip the current harvest year altogether. This is particularly true for very expensive teas and matters more to connoisseur audiences than to novice ones, as offering a lackluster harvest in a premium price range is a much tougher sell. Tea gardens generally will not offer the tea at a lower price for economic reasons. In years like these, the best lots disappear quickly and at very high prices, but those that are lacking are still in high demand (even if only for their name and pedigree).
In summary, the variables of nature can affect the availability of your vendor's inventory by delays of new stock as well as throwing off purchasing numbers and budgets for seasons to follow. Prepare your customers accordingly by explaining the wonders and perils of nature. Buying and loving specialty tea means the occasional sacrifice.