Selling
Tea Gifts Galore!
Tea gifts are the best gifts, say we! Be sure you have plenty to offer to make your shop the most convenient for your tea gift customers. Making your own gift sets is certainly an option. Packaged teas paired with a handy teaware item such as an infuser mug, at an attractive price point are sure to be bestsellers. If you don't have the time or creativity to create your own, your tea vendors may be doing it for you. Be sure to check out their gift options for the season.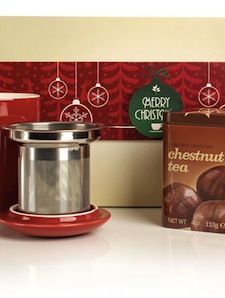 At Adagio Teas, we recently and happily added two Merry Christmas tea and teaware sets to our wholesale selection. One is with Candy Cane sachets in a festive tin and a red porcelain mug in a pretty gift box. The second has two stocking stuffer loose tea tins of our Chestnut and Gingerbread with one of our super popular red porcelain cups with infuser also in a holiday themed gift box.
Additionally, we offer sets of six stocking stuffer tins with our holiday teas in loose leaf or tea sachets for your choosing. Don't forget our Fairy Tales, Story Time and Tree House tea gifts for the little ones!
There's more! Feel free to browse our gift section or that of your other vendors. It just might save you time and effort!