Tea
Timely Tea Gift Expansion
Hear ye, hear ye! Just in time for the gift-giving season, Adagio Teas is adding to our tea gift sets. Princesses, princes, astronauts, monsters and wee paleontologists can all now enjoy teatime. Three new sets each containing three new themed tea blends packaged in full-leaf pyramid teabags within playfully designed tea tins. All are caffeine-free and blended with young taste buds in mind.
Behold our new children's tea gifts: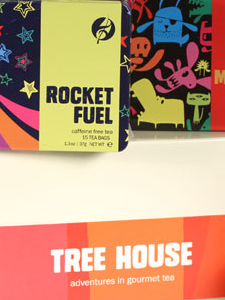 Cinderella– A pumpkin tea blend to transport Cinderella away from the wicked stepmother, to the Royal Ball and the attention of her Prince.
Snow White- An apple tea blend to help Snow White ward off the wicked Queen's poisonous spell and awake with the gentle kiss from her handsome Prince.
Sleeping Beauty - An herbal tea blend to wake Sleeping Beauty from an ageless sleep. Magically created by the good fairies Flora, Fauna, and Merryweather.
Three Little Pigs - A delicious tea to make you tough as bricks, more cunning than the big bad wolf, and your chinny chin chin always pointed up.
Alice in Wonderland - A rose petal tea to take you down the rabbit hole and through the looking glass to meet the Queen of Hearts.
Red Riding Hood - A scarlet tea blend to keep the hungry wolf at bay on your journey over the river and through the woods.
Rocket Fuel - A powerful tea to provide the energy you need to travel fast and far, and visit new worlds, like Venus and Mars.
Tea-Rex - A delicious tea to help you roar louder, roam wider and grow up big and strong, just like a real T. Rex. Rawr!
Monster Brew - A flavorful tea to help you battle demons and monsters, including the few that like to hide under the bed.
These fun sets have just added to our wholesale offering. If you wish to order them or have questions please email us for assistance!
Also don't forget to order our popular Stocking Stuffer tea tins. Perfect for gift baskets or bundling with a festive teapot!