Tea
Peaches and Dreams
Once up on a time, long ago, a young woman ordered ice tea with lunch at Simon Pearce in Vermont. The ice tea served was unexpectedly delicious and made quite an impact on the sipper. Notes of sweet, ripe peaches and bright, tingly ginger perfectly blended with a lively black tea base sowed a seed that would take on a life of its own and create a lifelong passion for leafy deliciousness.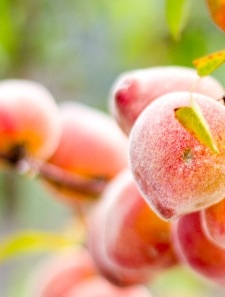 Let us fast forward to present time, and we learn the sipper has never quite recovered from this fortuitous tea encounter. Her tea journey continues. She may be more likely to sip a crisp sencha or a complex first flush Darjeeling these days, but summer peach season will always bring fond remembrances of that iced ginger peach tea. You'll find homage in the peachy teas we offer.
Peaches! Whether baked with cinnamon in a cobbler or simply sliced fresh (and quickly devoured), peaches are a great summer treat. Generally in season from May to September, this year's unusually warm weather has pushed many crops forward. August may be your last chance to enjoy ripe peaches fresh from the orchard.
If you have missed them, fear not. Adagio Teas' selection of peachy goodness pays homage to that long ago summer lunch in the Green Mountain State. Here are some of our favorites:
Peach (black) - Delightful peach-nectar fragrance, lingering floral aromas as you sip, pleasant astringency and 'peach fuzz' dryness. Simply peachy... (also available in decaf!)
Ginger Peach (black) – An ode to the original inspiration, with soft warmth of ginger with the sweet depth of summer ripe peaches and apricots, paired beautifully with tangy, naturally citrusy Ceylon black tea.
Peach Oolong - Just back in stock, this fresh harvest is an inspired treat. Fragrant and sweet like a perfectly ripe fruit, with a smooth astringency and lingering floral aroma. So very harmonious.
Celebrate peach season and add some of these for your late summer tea menu. They are all delicious or or iced!