Selling
New for Valentine's Day - Love Petals Gift Set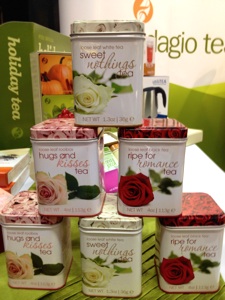 For those of you who retail and maybe even those of you who don't, Adagio just added a beautiful romance themed gift set. Called Love Petals, our new gift set contains three artfully decorated tea tins each filled with and enchanting new blends sure to entice the shopper and the sipper alike. All three are packed into a beautiful eye-pleasing gift box ready to give to one's sweetheart.

The teas within are:

Ripe for Romance: Romance starts with the perfect combination of elements. The sultry flavors of raspberry and chocolate meld together with black tea in this amorous blend. Aphrodisiac? Maybe. Delicious? Absolutely!

Hugs and Kisses: Blended with our South African rooibos and a delightful fusion of caramel, almond and vanilla it delivers the tea version of snuggle time. Red rose petals and blue cornflowers symbolize X's and O's.

Sweet Nothings: Sweet apricots, peach, lavender and white tea entangle themselves for a delicate fruit and floral tryst. Quietly pleasing, like softly whispered confessions of admiration that keep you wanting more. Each tins holds enough for 50 cups of tea and will keep on pleasing well after Valentine's Day.

Beautifully presented and deliciously blended! Email me for wholesale pricing and minimums or visit our wholesale website for more information.