Tea
New! Cast Iron Teapots
It is always great to receive new products, but we are especially pleased to announce the addition of cast iron teapots to our wholesale offering. Long used in Japan and revered for their elegance, durability and heat retention, cast iron teapots have become a popular choice for tea enthusiasts in the western parts of the globe.
Great as gifts and beautiful in food service, our cast iron teapots come with stainless steel infusers for easy loose leaf steeping. Each of the three styles has matching cups available - sold in sets of two as an optional purchase.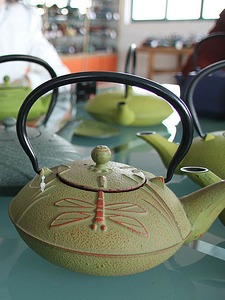 Making them even dearer to my heart is that I was able to visit the factory in Jinghua, Zhejiang province, China where these teapots are made. Watching the skillful artisans work each piece and the kindly owners guide and advise them was fascinating and informative.
Tea harvests vary from one crop to the next and don't stand the test of time (except for pu erh, of course), but these beauties are intended to last a lifetime and be passed from one generation to the next. Our choices for this initial offering could one day become heirlooms, which was very fun to consider.
Adagio Teas' cast iron teapots and matching cups are available on our wholesale website. For additional information, please email me.