Selling
Here It Comes - Holiday Season 2011!
Are you ready? In October many of our tea friends mentioned they were just trying to get their minds around the holiday season. It seems to be upon us quickly this year and there will be a scramble for gifty things. The good news, like every year, is that tea is a great gift: It's useful, guilt-free, generally healthy and oh-so-affordable. The tricky part is the packaging.
The best gift sets are convenient for the gift shopper and delightful for the receiver. Grab and go packages in various price points create the right kind of options. Most people will shop by price point in this ever-tricky economy and really need to get the most bang for their buck. Gift sets must be festive and convey a sense of joy - and a little luxury. Cello bags are popular with retailers because their transparency reveals the product within and are easily spruced up with seasonal bows, ribbons or a cute ornament tied to it. Baskets and basket boxes are popular as well and create a great base for building larger sets to achieve a higher price.
This year we are offering highly attractive tins and sets in the new gift section of our wholesale website. Holiday tea favorites in loose bulk and convenient pyramid style teabags in festive whimsical packaging are sure to save time for your elfin helpers and fly off your shelves like magic to ensure the delight of the lucky recipients.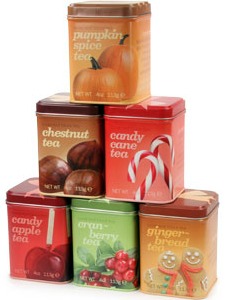 If you are a do it yourself person or just prefer to carry only your own brand, the same delicious teas are available in loose-leaf bulk. You can use your own packaging and get the benefits of using our bestselling, time-tested teas.
Keep in mind to order early to get the best selection and that during the holiday season any vendor's turnaround time might be a little longer than usual due to the added volume. Plan well to maximize opportunity. Having a great gift selection is a wonderful service to provide and can create great customer relationships the whole year through. Here's hoping you are merry for the next eight weeks! Cheers!