Staff Training
Busy Season Training Tips
One of the most important things you can do as your busy season approaches is staff training and education. Most businesses add new staffers for the busy season (holiday or otherwise) and will need to focus on various aspects of training the new hires. In addition, they will need to get seasoned staffers to brush up and be ready for what lies ahead.
Having a plan for educating your staff is an invaluable way to ensure consistency and that nothing is lacking when your staff is thrown to the bus season wolves. Consider creating a handbook for your crew to provide easy access (and eliminate excuses.)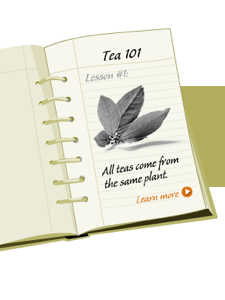 Let's start with basic stuff. Clearly communicate scheduling details, attendance policy, and payroll/payday info. You may wish to include any sales goals and define their job description so they will know exactly what is expected of them. Hopefully this was covered during the hiring process but it is good to have it in writing and get the team member to sign it on their first day of work.
Register Training - Ensure all team members are familiar with using point of sale equipment and that they practice all various transaction types. Return procedures and cash handling policies should be included. You don't want to find out several weeks down the road that someone is failing to process something correctly and causing errors in your sales capture.
Tea 101 - If your business is tea centric, your staff must, must, must have tea education. Customers tend to have many questions (and much misinformation) about tea and will turn to your staff for answers. It is important to provide tea basics a list of FAQs (frequently asked questions) with answers to ensure your staff is providing the correct information in the way you want it disseminated. Our educational website TeaClassTeaClass is free for all use and educate those who seek tea information. It is a great resource that is designed to be used by shop owners to track their employees' progress.
Cupping - Once you provide Tea 101, you have to reinforce with tea tasting sessions with your team. Start with good examples from each category (white, green, oolong, black, etc.) then move through the rest of your tea line. Encourage your staff to cup regularly, and to not just brew their favorites. In depth familiarity with every one of your teas will provide confidence when communicating each tea's character to your customers.
Basic Selling - There are many styles of selling as much as there are things to sell. You may have a preference for how you want your staff to sell your products, hard sell v. soft touch for example, and must teach this to your crew. Just as a hard sell style can turn customers off, too soft of an approach can come across as not caring - this is just as dangerous as coming on too strong! Also it is important not to assume that sales skills are innate. Most people will need some guidance as they develop their own style.
Product Info - Naturally, having information about each item you sell available to your staff is key to ensuring customer satisfaction as well as sales. Have your staff devise several selling points for each item and choose the ones you would like them to focus on. Keep an open forum about unusual questions or new uses that should be shared among your team. Encourage use of accessory items and different brewing methods to ensure familiarity.
Lastly, check in with your team. Don't assume all is going well and that no news is good news. Make sure you or your lead person is asking every team member daily if they have questions or any suggestions. Fresh eyes can offer perspective to help you improve your operations or even just fill in holes in your training process. Keep the communication (and your mind) open and make time to learn from staff experiences. Adaptability is the key to survival.