Tea
The Pumpkin Craze
It's October and all palates turn to the seasonal goodness of pumpkin! The highly celebrated king of squash, pumpkin reigns supreme over the late part of the year. Festivals in its honor are held with recipe contests, largest pumpkin competitions and of course, carving the perfect jack-o'-lantern. During a recent trip to the grocery store, I noticed many pumpkin flavored coffees, muffins, cakes, beer and even breakfast cereal front and center on nearly every aisle! Nothing quite enhances the feeling of autumn like the flavor of pumpkin in your favorite treat.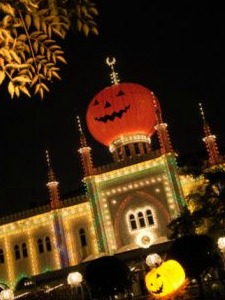 Here at Adagio Teas, we are no exception and the pumpkin craze is on full throttle. Our ever-popular Pumpkin Spice tea is in high demand and we've been blending as fast as possible to keep up! In addition to the loose bulk we have historically offered in wholesale, we are pleased to present it now in pyramid teabags and loose-leaf decorative gift tins for resale! It can also be found as one of the six teas in our Holiday Cheer boxed collection of individually wrapped pyramid tea bags.
Holiday season is the perfect time to create new tea drinkers by enticing them with gifts of tea. Some of these folks will go on to become tea fans and even connoisseurs from the simple act of trying a full leaf brew, be it Pumpkin Spice or something more esoteric. Fun and festive, tea has much to offer and makes a great feel-good gift.
Please visit our new Gifts page on our wholesale website to see all our new offerings for the holiday season. We are happy to offer these sure-to-be bestsellers with our wholesale partners! Share the tea love!