Industry News
Finding A Niche
The Specialty Tea industry is ever growing and evolving. There is a typical ebb and flow of businesses that come and go. The same is usually true for trends, but over the past year or two what we seem to be seeing in the tea biz, is specialization in a specialty market. That is to say, some new tea businesses are developing niche products.
While companies like Teas, Etc, Harney & Sons and Adagio Teas, offer a wide range of teas and teaware, there are an increasing number of companies launching small lines of teas with specific purpose or market appeal.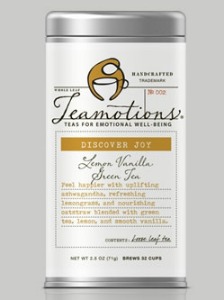 The first of these is Teamotions, started by sisters Rachel Crawford and Crystal Tenpenny. The story is a moving one indeed, with the loss of newborn twins and the loving desire of one sister to help relieve the other's grief, a concept grew out of realizing a need for emotionally supportive teas. Rachel's desire to turn around her loss to help support others is nothing short of beautiful. The six wonderful tea blends she and her sister have developed are well-researched and selectively blended to comfort and support.
Another interesting tea company is Tiesta Teas, out of Champaign, Illinois, began in March 2010 with the notion of tea blends designed to complement lifestyle needs. Their five blends include Energizer, Immunity, Relaxer, Slenderizer and Forever Young. This approach helps the mainstream customer easily find a tea for their needs and perhaps puts them on the path to even greater tea enjoyment.
An even more recent start up is Crazy Bitch Tea. They offer one specialized tea blend intended to ease the stresses of simply being female. Their website describes it as "a special formula to assist you in maintaining balance and reclaiming your divine feminine power." Master Blender and founder Lynn Higgins is excited at how helpful the blend is and realizes the name might be slightly off-putting for more sensitive folk, but it immediately connects to the intended consumer in a humorous but to-the-point way. More power to you, Lynn!
Tiesta Teas may be right, the way to connect tea to the mainstream consumer is to create blends they can immediately relate to. If so, these companies are certainly on the right track. Whether the blend is evocative, functional or just downright funny, many a tea path has started with the single step of a person in need, seeking a connection to a product or a fix for a problem. Tea and tisanes have so much to offer and these companies are shining a selective spotlight to attract their audience.