Industry News
World Tea Expo June 24-26, 2011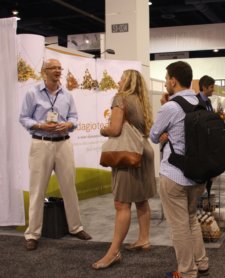 Will you be attending the World Tea Expo this year? If so, you can register for free general admission and 20% off Core Conference Seminars until April 22nd.
We will be exhibiting and teaching classes. Yours truly will be teaching a blending class to help guide you in creating your own signature blends. Come join me!
The expo is June 24-26 this year in Las Vegas and is shaping up to be a lot of fun with much to see and experience. The best part is being around so many people as passionate about tea as we are. It is also a great opportunity for networking and seeing how other tea business owners have surmounted challenges you may also be facing.
Meet your vendors, see new products, take classes and learn industry news! Also several levels of STI certification (Specialty Tea Institute) courses are available in the days right after the expo. If you have been meaning to start the program or move on to the next level, you can attend the expo and stay a couple days to complete a level.
If you attend be sure to visit us at booth 225. If you wish, let us know if you plan on attending by emailing me. Would be great to see you there!