Serving
Late Summer Sangria
August is our last chance to enjoy what summer has to offer as the season seemingly spirals quickly into back-to-school and spills us headlong in to fall. As your customers come in still feeling the golden glow of late summer, offer them refreshment in the form of delicious caffeine-free fruit blends.
For example Adagio Teas Fruit Medley , also know as Fruit Sangria, may just be the perfect thing to serve and foster memories that will sustain us through the grey cold of winter.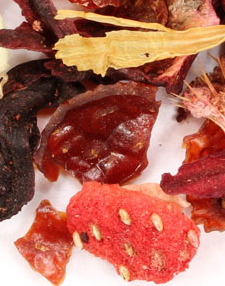 Refreshing and sublime, it is blended from dried cranberries, hibiscus flowers, apples, orange peel, strawberries, cherries, lemongrass and sunflower petals and yields a tangy, fruity herbal tisane. While great hot, chilled and lightly sweetened if your customers prefer, it is a bestselling blend that has become a classic of our tea line.
Easily garnished with slices of fresh or frozen fruit it deep red color will enliven any presentation and its naturally caffeine-free character makes it approachable for children and those who eschew caffeine. Brewed, chilled and frozen it also makes a delicious granita for something a little different. Let your creativity run wild with our Fruit Sangria!