Industry News
Spring and Summer Trade Shows 2010
Trade show season heats up with the weather this time of year and we will be out and about. Here are a few shows we never miss:
This merry month of May from the 22nd through the 25th we - Adagio Teas - will be exhibiting at the National Restaurant Show in Chicago. The show is a great resource for many cafe and tearoom owners looking for products, equipment, food, furnishing, and linens - anything you might need for your business. If you are making the trip please come by booth 4818 and say hello!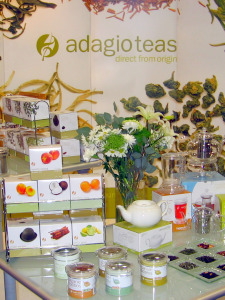 If you are planning a trip this year to the World Tea Expo June 11-13 at the Las Vegas Convention center, we are looking forward to seeing you! It's probably the only other place in the world where everywhere you turn there are people as passionate about tea as you are.
All kinds of tea and tea related resources can be found there. If you are going you MUST come to our booth 311 and meet us. Our newest team member, Charles Cain formerly of Tea Gschwendner will be with us and giving two educational presentations. More about them can be read here. Charles is a great addition to our team - please check out his informative TeaRetailer blog and his presentations!
Then finally we will be at the Fancy Food Show in New York City, June 27-29. It a great show for finding food trends, resources and um, sampling. Lots and lots of sampling! Booth 656 is where you will find us fun-loving tea folk.
Come by and visit if you are planning to attend any of these fine trade shows. They are great placed to find ways to enhance your business. When you visit us we can talk about TeaMap, TeaSmart or your tea selections. We might just find something to suit your tea needs!