Marketing
The Madness of Tea Parties
With the fairly extreme political polarization going on here in the US the once beloved term "Tea Party" has lost its fun, innocent, yummy connotation. For those of us in the tea business as well as tea enthusiasts, it has become increasingly difficult to get genuine Yahoo! and Google alerts tea news. It is not that we aren't concerned with national affairs, but we also really want tea news! And perhaps if opposing parties sat down and calmly enjoyed a pot or two with some sweets and had civil discussion...well, who knows what disagreements might get resolved?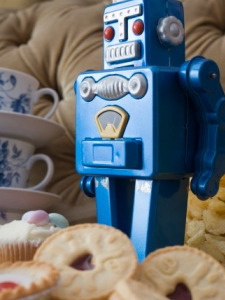 Of course this is a simplistic and slightly cheeky thought, but perhaps we can take back the term "tea party" by encouraging light-hearted social gatherings focusing on tea and snacks. In doing so, a full belly and cupful of warm comfort can only facilitate focusing on resolution instead of derision.
With this month's much anticipated release of Tim Burton's Alice in Wonderland, the time is perfect for celebrating the true wonder and fun of a tea party. Lewis Carroll's Through the Looking Glass gave us the most famous tea party in literary history. If you are lacking an idea for a tea event, this might be just the thing to inspire you and your customers.
Encourage tea party fun with unusual treats and topsy-turvy decorations. Have a costume tea, where customers and servers can dress as favorite characters - have prizes for the best of each. Customers could choose a favorite passage from Through the Looking Glass to read at the event. Have punch bowls and teapots labeled "drink me" and cookies and cakes with "eat me" written on them. Also a game of "Pin the Smile on the Cheshire Cat" would be delightful!
Make tea news by announcing your own tea parties that really and truly are about TEA! I promise to click through if it lands in my inbox!